Escape the Museum 2
Reach the museum and save your wife! in addicting Escape the Museum 2 Game
System Requirements
OS: Windows XP/Vista
CPU: 1.0 GHz
RAM: 512 MB
DirectX: 8.1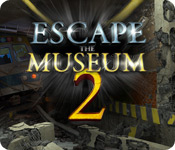 Escape the Museum 2 Game Description
After a devastating earthquake rocks the city, David must reach the museum before nightfall and save his wife and daughter! Explore different Hidden Object scenes, and solve a variety of puzzles, while journeying across town to your family. Navigate the treacherous streets, risk life and limb at every step, and figure out the best possible path with the help of an unlikely stranger in Escape the Museum 2.
Escape the Museum 2 full version features include:
Immersive gameplay
Beautiful scenes
Escape the Museum 2 Game Customer Reviews
I really enjoyed this mix of HOG and puzzle adventure. The story was fun, the objects challenging but not impossible to find and then work out how to put things together to solve clues. If you miss anything it tells you that you aren't quite complete and you can continue searching before moving on to the next location. Only problem I had was on one of the final locations the screen didn't show the full picture in the HOG scenes for some reason and still had part of the previous screen over it so the only way to solve was to use the hint to show you where to click - luckily it doesn't penalise you for that and recharges very quickly.

- by aitchie
In this day & age, it is a miracle in its self to come come up with a plot not dealing with EGYPT or the INCAS. That moved it from a 4 to 5 for me. Even better if they could come up with 2009 era. lol. That and I liked the first one sold me. It is goo, not the best, but not much of he best has come out lately. I am still playing so cannot judge fairly. But I would say ODDS are if you liked the first one ( which I loved) you will probably like this one too!

- by katkeeler
This is REALLY fun. So much better than Escape the Museum, I was quite surprised. It is almost comical, or maybe tragic, how many things this guy has to do to get a couple of miles across town to his family. They're in the Museum, and he has to put out fires, bring kids back to their parents, reunite pets with owners, scale buildings, break into stores, shopping centers, move washing machines, on and on and on, plus working his way through a ruined city to the museum. It is first rate, very different than anything I have played, and a lot of fun. It's pretty hard to figure everything out too, so it takes a while to play. I'm actually going to play again, so I can play without the worries I had the first time around. I highly recommend this one. Don't miss it just because you didn't like Escape the Museum. That was interesting when she had to escape rooms and the rest was tedium. This doesn't really have a tedious moment. Beware, however, that if you miss a part of the bridge, you have to backtrack and find it. Enjoy!!

- by jjmn
Related Games
If you like Escape the Museum 2 game, you may also like...