Samantha Swift and the Fountains of Fate
Help Samantha find the Fountain of Youth! in addicting Samantha Swift and the Fountains of Fate Game
System Requirements
OS: Windows XP/Vista
CPU: 1.6 GHz
RAM: 512 MB
DirectX: 9.0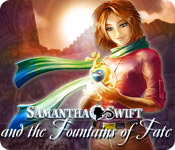 Samantha Swift and the Fountains of Fate Game Description
When Samantha's quest to follow the trail of Cortez is interrupted by the manipulative M'Alice, she embarks on a journey to reclaim the Emerald of Judgment. With the help of Dr. Butler and Adam, the archaeologist and adventurer soon discovers that the rare artifact she possesses may be the key to unlocking the Fountain of Youth! Travel the globe in Samantha Swift and the Fountains of Fate, a fun Hidden Object game.
Samantha Swift and the Fountains of Fate full version features include:
Awesome achievements
Great gameplay
Find the Fountain of Youth!
Samantha Swift and the Fountains of Fate Game Customer Reviews
What can I say? Played the demo for 3 mins and purchased. But like many others here, I've enjoyed this series right from when I played the first one.

- by bansama
Samantha is back and in really equal quality. Moviemakers could learn of it. But I agree - I dont know how helpless I would be sometimes if I would not know the othe games. Nevertheless, I find scenes more complex and challenging, the Swift-birds are partly very very well hidden (they help open the free play-mode). Overall a very pleasant and good game and pretty long as all previous. Enjoy it!

- by sy99
I am going to use a punch card coupon to purchase this one, since I really like it! I've played and enjoyed the Samantha Swift games before. This one is not much different except that she's gotten a bit older.

The graphics are bright and clean and there's a little animation in the background, but I wish the developers would try and be more creative with the animations and give us players a little more interaction. Example: If you click on the windchimes that are moving in the breeze, why not have them make a sound??

It's not the BEST hidden object game and certainly not the longest, but it's very enjoyable and all ages can play it.

- by carolinacat
Related Games
If you like Samantha Swift and the Fountains of Fate game, you may also like...