Evy: Magic Spheres
Help Evy save the magic kingdom with puzzle duels! in addicting Evy: Magic Spheres Game
System Requirements
OS: Windows XP/Windows Vista/Windows 7/Windows 8
CPU: 1.4 GHz
RAM: 512 MB
DirectX: 9.0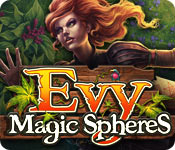 Evy: Magic Spheres Game Description
Orphan Evy wakes to find herself in a fairytale kingdom under threat from an evil witch. Monstrous creatures roam the land, from werewolves and evil rabbits to goblins and much, much worse. With the help of new friends and the magic of her special spheres, Evy must save the land. Match three or more spheres in endlessly-shifting chains to unlock her powers and defeat these vile creatures in Evy: Magic Spheres!
Evy: Magic Spheres full version features include:
Stunning hand-drawn art
Magnificent fairy-tale world
Gripping plot with odd allies
Unique Marble Popper duel system
4 distinct types of mini-game
Evy: Magic Spheres Game Customer Reviews
I really enjoyed this game. I am not a regular fan of the marble popper genre, but this one is fantastic! You are playing a 10 yr old orphan who has been transported magically from the orphanage to a fairytale forest that has been overtaken by an evil queen. You meet a host of interesting characters as the story progresses. The difference here is that you have to battle the evil guys in a turn based marble popper game. Each of the colors has a different effect on your character or your opponent. Some heal you, some injure the bad guy, some enhance your power. It is a very interesting game, and a whole lot of fun! The graphics are fantastic, the storyline is detailed and interesting, and the game itself is awesome. I will be purchasing this one as soon as I finish this review! Loved it. Highly recommend it!

- by mammamia21099
This was a great game. The game is a shooting type and you are pinned against a foe then you need to compete against them in order to win the level. I like that you get to level up your attack, defense, and health. Very different but in a good way. Need more games like this one.

- by nummie9988
This is a match three shooter (Zuma style), but it is very different because it is turn based. You are fighting enemies, different color balls do different things (attack, defend, increase life). Since it is turn based, it is a lot more about strategy than about aiming, which is very original in this kind of game, I only encountered this in normal match-3 games, but it works surprisingly well in this game. This game starts out pretty childish and easy at first, but I am about halfway through and did have to replay a few levels already, so it gets a lot more difficult.

- by AprilRyan
The game meets a need I didn't know I had. The need for popping meets role playing meets adventure and WOW! It's all there and near if not at perfection! The story is a charming retelling of mysteriously orphaned girl enters unknown fairy world for mysterious adventure. The obvious goal is to defeat the ruling witch but this is done is a way similar to the Puzzle Quest series, but with marbles. You duel with villains buy power-ups and enjoy the character's often wry humor. No, this isn't a kiddie game. It needs strategic thinking and cool reflexes and a taste for comic satire. But fans of all the foregoing game types should give this a try. You might be playing the intro to a whole new genre of games!

- by TeachumWell
Related Games
If you like Evy: Magic Spheres game, you may also like...