Butterfly Escape
Return sunrise to the Kingdom of Light in this addictive 3D action-puzzler! in addicting Butterfly Escape Game
System Requirements
OS:Windows 2000/XP/VISTA
Memory: 128 MB
DirectX: 8.1 or later
CPU: P800
Video: 3D Video Card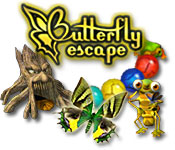 Butterfly Escape Game Description
Butterfly Escape is an addictive and exhilarating 3D action-puzzle game! Charge through 109 scenic levels as you guide Buka the Dragonfly to help him shoot and destroy approaching balls of light before they reach the Dungeon of Darkness. There are 3 exciting game modes along with some cool animated characters and power-ups! Adventure and excitement await those who help Buka free the butterflies and return sunrise to the Kingdom of Light!
Butterfly Escape full version features include:
15 Beautiful Butterflies To Free!
Cool Animated Characters And Power-Ups!
More Than 100 Scenic Levels!
3 Addictive Gameplay Modes!
Butterfly Escape Game Customer Reviews
I think Butterfly Escape is as a good as Luxor. Probably better! When my free trial ran out I got it so that tells you how much I liked it!

- by AmieBell
I can't believe the graphics in Butterfly Escape! The backgrounds are absolutely beautiful and they are in 3-D! While it is based on the Zuma and Luxor games, this one is different in that you get carried away by the vibrant colors and the cursor arrow changes to the color of the ball you are ready to throw, making it easier to watch where the ball will be going. The cute little guy that throws the balls has a personality and I could watch him do his little dance between games for a long time. The sound effects are well done and the music is not annoying at all. I own Zuma and turn off the music because I get tired of listening to it. But with Butterfly Escape, I leave the sound on. The creators of this game have done an exceptional job and deserve many, many kudos for this one! I was disappointed when the time on my demo ran out because I was not ready to stop playing. I will definitely buy this one, guys! Thanks for making one that's challenging as well as beautiful!

- by lindsar
I love Butterfly Escape. Buka the Dragonfly is very funny when he does his victory dance at the end of each level!

- by MeganJane
Related Games
If you like Butterfly Escape game, you may also like...