Fairy Treasure
May the fairies be with you as your quest for the Fairy Treasure begins! in addicting Fairy Treasure Game
System Requirements
OS: Windows 2000/XP/Vista
Memory: 96 MB
CPU: P3 800
DirecctX: 5.0 or later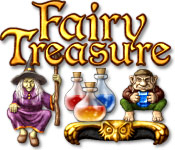 Fairy Treasure Game Description
In your quest to recapture the Fairy Treasure, stolen from the Kingdom of Trollandia by an evil and greedy troll, you will travel along the Fairy River and struggle against hags, goblins and other evil wills. Gather magic scroll parts to find hidden treasures, solve puzzles to unlock secret areas and collect keys to unleash the mighty chain ball! In this gorgeous brick-busting game, you will discover lots of fun new bricks and power ups never seen before! May the fairies be with you as your quest for the treasure begins!
Fairy Treasure full version features include:
A Magical Fairy-Themed Breakout!
More Than 120 Sparkling Levels!
Amazing Power-Ups And Bonus Items!
Fantastical Bonus Levels!
Fairy Treasure Game Customer Reviews
was so impressed with the graphics and game play wanted to play all day love the technique of this game, cannot rate it highly enough, in a word supburb.

- by oasts
This game is so realy fun to play! the graphcs and all the effects look fabulous. awesome bonusess and powerups, unbelievable detail in everyting. it's truly addictive!

- by whitepacitto
Wonderful game that is easy and fun at the same time. I love it and so do my daughters that are 9yr old. I would recomend this game to people whole heartedly.

- by SailorJeni
Related Games
If you like Fairy Treasure game, you may also like...