Farm Fables
Help Leia keep her farm, grow crops and care for the animals! in addicting Farm Fables Game
System Requirements
OS: Windows XP/Windows Vista/Windows 7
CPU: 1.0 GHz
RAM: 512 MB
DirectX: 9.0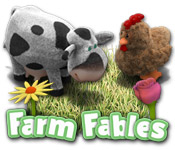 Farm Fables Game Description
Join Leia on a two year adventure as you harvest through the seasons and help her keep her farm in Farm Fables. Grow your plants, look after animals and use tools to develop your farm. Upgrade your farm to create ice-cream, milkshakes, cake and lots of other tasty treats. Keep your farm running through sun, rain and snow to make a new life in this beautiful Time Management game!
Farm Fables full version features include:
Exciting gameplay
Beautiful graphics
77 different levels
Farm Fables Game Customer Reviews
I really like this one. It's nice to see a farm time management game that requires some strategy. You will have to plan out what to sell and when to complete a level with a good score. The little animals are very cute. I didn't listen to the music so I couldn't say what it is like. The tutorial is very short and gets you into the game right away. I played the demo, and had to buy it. I always try to get the gold star in these type of games. In this one, that star is elusive even in the early levels.

- by sharkboys77
If you are a fan of any of the farming time management games, or tm games in general, then this is one for you. You are running a farm, and have to collect products such as eggs, wheat, corn, etc and turn them into flour, bread, etc. You get the picture. The graphics are fantastic. I am definitely purchasing this game today! Have fun TM fans, we don't get many of these anymore and this is a great one!

- by mammamia21099
When i first saw this game it looked bad but my opinion has changed. First of all this game looks alot like farm frenzy on first look. But it is completly different, first of all u have a field in this game. Not just animals, next this game has alot more strategy then farm frenzy. The main differnence is that this game u half to use alot of strategy. Not just fast clicking and this game doesnt get boring by level 7. Theres alot of farming games out there but this game is unique and fun and the story is good.

- by YoshisArmy
Related Games
If you like Farm Fables game, you may also like...