My Kingdom for the Princess II
Help Arthur save Helen! in addicting My Kingdom for the Princess II Game
System Requirements
OS: Windows XP/Vista
CPU: 600 Mhz
RAM: 512 MB
DirectX: 8.1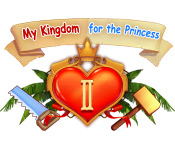 My Kingdom for the Princess II Game Description
Help Arthur clear the land, stop invaders, and work with magical beings to save Princess Helen from a terrible dwarf! Longbeard has kidnapped the beautiful princess and now it is up to our brave hero, Arthur, to repair the entire kingdom as he tracks down the evildoer. Experience unique gameplay in My Kingdom for the Princess II, a fun and exciting Strategy game. Can you overcome the obstacles and save the day?
My Kingdom for the Princess II full version features include:
Unique gameplay
Magical characters
Save Princess Helen!
My Kingdom for the Princess II Game Customer Reviews
Continuing on from where Part 1 left off, this sequel has you facing similar challenges while the Prince and his bride are on their honeymoon. I only played the demo, but the game mechanics are the same, and just as fun, the hour flew by fast!

I did see some changes in the form of having to build hunting lodges that adds a hunter to your team, necessary to scare off the hornets that are guarding the roses you need to pick, or the lions that prevent access to the gold ;). I can't remember if there was a "motivator" in part 1, but he's kind of cute in this one as he exhorts you to "Charge!" to get you going. Other times, he's sarcastic as he asks you what you are waiting for, the clock's ticking ;).

Great game dynamics, sweet graphics, cute narrative, replay value, definitely worth buying.

- by Ananthanarayanan
I've been waiting and hoping a part 2 would come out since I loved the 1st one so much. The graphics are great. I just love the way that little man runs..lol. The music isn't annoying and I had no trouble with the download. If I had to say anything negative it's the narrator. He talks too much. But that's not a big deal. Overall I gave it 5 stars. I will definately be buying this one.

- by bluebird91
I loved the first game, and I love this one! It's difficult to describe how the game works, but it's fun. It's Time Management, but not anything like the Diner Dash sort of management, and while there's building, it's not a whole lot like Build-A-Lot, either. I agree with CheerfulDragon8 that the man's voice is so annoying. After each level you get gold on, he says, "You're a great player!" and "You've improved your castle!" It gets irritating after a while! Other than that, the game is great.

- by Imberis
Related Games
If you like My Kingdom for the Princess II game, you may also like...