Farm Frenzy 3: American Pie
Robots help grow a bumper crop of fun! in addicting Farm Frenzy 3: American Pie Game
System Requirements
OS: Windows XP/Vista
Memory: 1 GB
DirectX: 8 or later
CPU: P700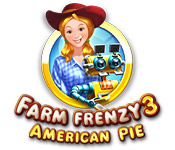 Farm Frenzy 3: American Pie Game Description
Join Scarlett, the feisty star of Farm Frenzy 3, as she puts robots to work on her land. Can you keep up with the latest advancements in technology as you grow crops, feed animals, collect produce and manufacture goods? Of course you can! Just don't let the zany new animations distract you from the task at hand. Featuring 90 levels packed with never-before-seen characters, buildings and challenges, Farm Frenzy 3: American Pie promises a bumper crop of fun!
Farm Frenzy 3: American Pie full version features include:
Put Robots To Work On The Farm!
New Endless Mode!
Upgrade Your Equipment As You Go!
A Bumper Crop Of Fun!
Farm Frenzy 3: American Pie Game Customer Reviews
Fantastic, all new graphics, all new levels, if you are a Farm Frenzy fan then this is a must add to the collection!! I hope they continue with this series I can never get bored with it!!! Two Thumbs up, love it!!

- by Kitty221
Game is truly a lot of fun. Challenging but seems a little bit easier than Farm Frenzy 3 (the original). If I had to choose between the two, I would probably go with the original, basically because it has more variety with 5 distinct worlds & accompanying animals. This one is great for those who loved Farm Frenzy 3 and can't get enough. It includes robots this time around, and even has a few bizarre things that will happen when you least expect it, just to make you laugh. This is a well made game, great challenge and replayability. Definitely worth $6.99 in my book!

- by Diskette66
The whole Farm Frenzy series is awesome!! I love everyone that comes out and play them several times through. Farm Frenzy 3 is a great game if you're a fan of the series or just trying one. They just can't make these quick enough!!!!

- by mwolfe
Related Games
If you like Farm Frenzy 3: American Pie game, you may also like...