Moai: Build Your Dream
Restore a ravaged island to its former glory! in addicting Moai: Build Your Dream Game
System Requirements
OS: Windows XP/Windows Vista/Windows 7/Windows 8
CPU: 1.6 GHz
RAM: 512 MB
DirectX: 9.0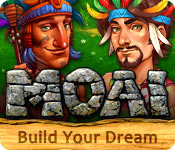 Moai: Build Your Dream Game Description
Discover the wonders of an uncharted island and help the natives restore their ravaged land to its former glory in Moai: Build Your Dream! Overcome the fury of an active volcano, hordes of attacking ghosts and the threat of dwindling resources as you guide the hero and a native princess on their quest. Coax the resources you need to survive and rebuild villages out of the earth. Calculate the quickest way to accomplish your tasks in order to unlock dozens of brag-worthy achievements. And learn to use powerful Moai statues to defend your workers as they perform the tasks you assign. There will never be a dull moment as you enjoy the colorful graphics, life-life character animations, and dazzling comic book style story interludes in Moai: Build Your Dream!
Moai: Build Your Dream full version features include:
Comic book style cutscenes
Over 50 achievements
Step-by-step tutorial
64 levels, 4 locations
Moai: Build Your Dream Game Customer Reviews
Love it when I log on and there is a new TM game instead of another HOG. Love it even more when it is an awesome new TM game! We start out in this story trying to fly around the world in an air balloon. Things go badly for our hero, and his air balloon crashes into the ocean, only to be found by a small tribe of Islanders who have been awaiting your arrival. The Islanders need help fixing their Island, in return, they will help get you home at the end of your travels. This is a building TM game. You plant, fields, build cottages, etc.

It is well thought out, has an engaging storyline, nice Islandy music, awesome graphics, and just a whole lot of fun! I had my card out to buy it as soon as the trial was over! Loved this game!

- by mammamia21099
love, love, LOVE this game! It would be nice to skip all the dialogue -- which I absolutely never follow in any game I play -- but it's got so many levels and it's REALLY challenging -- no way I'm going to make gold on every level in the foreseeable future!

- by ahhgoosh
Brilliant TM game, i love getting up to see TM games rather than the usual HOG almost every day, this TM game has beautiful graphics, great story line, challenging levels without them being impossible to do, in all a massive thumbs up to this developer, love this game. in this game you have to build fields to provide food and stone, build markets to sell food and stone for wood so you can build, you are not limited to only one man as your only worker, you can upgrade your hut to make space for more workers. a very cute game, a must try for any TM lover.

- by Do_U_Know_Me
This game is another hit by Alawar games- once you get a good game format down, all that is left is to improve it- and that's what they do, consistently. This game is fast paced, so younger children might find it frustrating, unless they happen to be extremely well versed in Time Management games. The storyline draws you in, and the levels quickly become challenging.

The in-game achievements are obtainable, and are quite fun to try and achieve them all- unlike some games where you have to go out of your regular gameplay to obtain them, this game's achievements move right along with you. Overall, this is a fantastic game. :)

- by RenaiReborn
Related Games
If you like Moai: Build Your Dream game, you may also like...