Northern Tale 3
Fight with Vikings against the Ether Dragon! in addicting Northern Tale 3 Game
System Requirements
OS: Windows XP/Windows Vista/Windows 7/Windows 8
CPU: 1.0 GHz
RAM: 512 MB
DirectX: 9.0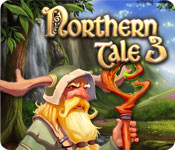 Northern Tale 3 Game Description
Northern Tale 3 continues the legend of brave King Ragnar and his family. Peace came to the lands of the Vikings. The cruel witch Gesta and her henchmen were defeated and no longer pose a threat, but there are rumors of a new evil on the rise. All four sorcerer-kings of the neighboring kingdoms have disappeared and their lands are plagued by a monstrous creature. An ancient Ether Dragon has cursed the kings and turned them into fierce elementals. In order to stop the evil from spreading, Ragnar will have to free them from the curse and defeat the Dragon himself!
Northern Tale 3 full version features include:
Travel along 50 artfully crafted levels
Unlock over 60 achievements!
Try 3 differnt modes of play.
Play Northern Tale or Northern Tale 2
Witness an epic legend come to life!
Northern Tale 3 Game Customer Reviews
Played this game all the way through and definitely doesn't disappoint. The mechanic is a new addition and just like the druds' and excorcists' huts plays a major part in this wonderful series, if you want the bridges to open and you will build his hut asap. Also something I noticed more so in this sequel tunnels are well hidden so if you do get stuck LOOK FOR THE TUNNELS! I had to restart a few levels because of this but that's ok. Brothers of Earth and Fire are also new and you will see what they do when you play. Fast paced, lots of tasks to do, graphics and storyline are good and our gorgeous big chubby elephant Rollo is of course there to save the day a few times. I love this series as I do the Viking Saga series, must be a viking thing :) Gamers who have enjoyed the 2 previous series will enjoy this for sure and replay value is good, have played it through 3 times and love it more each time. So, as I always say in my reviews. Try, buy and enjoy :) because you will enjoy :) LOVE MY VIKINGS XXXX

- by ozziebasia
As a lover of TM games, I was really happy to see Northern Tales 3 as game of the day. I was also apprehensive as so many sequels don't live up to their predecessors. Not so with this game.

Yes, it is similar to the 2 previous games; yes, you do clear paths and destroy power stones; and yes, the 'facts' about Vikings are repetitive. But, I found the game fun and challenging #I play 'timed' and do not use the ability to click multiple activities#. I had to restart a number of levels in order to beat the clock.

I find the graphics entertaining as well. There are little rabbits or creatures among the land scape, eagles soaring, and moving streams. It always amazes me when I really look at the graphics and imagine the amount of work that went into the development of these games #and all games# from conception to development to testing to release. I don't think people stop and realize just how much work does go into developing the games.

Bottom line, I love the game. Congratulations to the developers! Looking forward to Northern Tales 4!!

- by boogienites
Loved this game. I always play on relaxed game,too shakey for timed TM's. Really enjoyed, didn't see anything wrong with using same charecters from game one and two. Always laugh when chapter is over and they do thier little dance and run off. Some levels were challenging had to replay two, three times but always found which way to go to earn my points.

- by BiddyCat
Related Games
If you like Northern Tale 3 game, you may also like...