Farm Tribe
Help Anny organize a farm in Farm Tribe! in addicting Farm Tribe Game
System Requirements
OS: Windows XP/Vista
CPU: 800 Mhz
RAM: 256 MB
DirectX: 8.0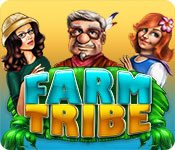 Farm Tribe Game Description
Help Anny organize a farm and solve the mystery of Mayan's tribe! Hire workers, take care of them and improve their professional skills. Cook delightful dishes from grown organic products and earn money selling them. Build, decorate and expand your farm to attract new customers in this fun and exciting Strategy game. Use your profits to make your Farm Tribe the absolute best!
Farm Tribe full version features include:
Unique gameplay
Radical recipes
Help Anny organize a farm!
Farm Tribe Game Customer Reviews
Oh nurtz, here is another game that has me as addicted as Chocolatier Decadence By Design. I was a little leery of the game at first, but by the time I had finished the demo I was as hooked and flopping on the shore as those salmon. I played Virtual Village many moons ago, but didn't like it because all my little people would up and die on me if I wasn't careful. They just kept going even when I was away. This game at least halts when you hit the EXIT button. Cute game, love it, and especially appreciate all the hints and tips from the super smart and alert fishies that are ahead of me in the game.

- by vonniefaye
I'm doing a happy dance this morning because Farm Tribe is out, I have been constantly playing this game (beta version) since I tried it and am so glad that I can now go and buy the object that signalled the end of the trial.

This game is a Virtual Villagers meets Escape from Paradise type where you have to discover mysteries but you also have to complete tasks ... if you complete the task within the time, ie when the pay envelope is on the right hand side of the task bar, you earn more money than for just completing the task. Some of these tasks stop the game continuing until they are completed as they trigger the next task/event

You use the money in the shop to buy things such as tools or condiments so that you can make delicious recipes which you eat but also sell to make money to pay off the mortgage, yes I did say mortage and it is a hefty one ... thank goodness it isn't mine.

I found that the tech points seemed to accumulate quite quickly but you are kept in the dark as to how many you need to unlock the next improvement. There are also 48 items to collect such as shells, butterflies etc which are just very small bits of colour among the trees and in the river etc. Don't despair at the size because these old eyes have managed to find 43 of them so far except that I have just uninstalled the beta and will now have to collect them all over again.

Anyway I like it and have already purchased it and, now that I have downloaded the full version I am off to start it all over again.

- by cherbtoo
Related Games
If you like Farm Tribe game, you may also like...