Farmers Market
Build a farm fresh marketplace! in addicting Farmers Market Game
System Requirements
OS: Windows XP/Vista/7/8
CPU: 1.0 GHz
RAM: 1024 MB
DirectX: 9.0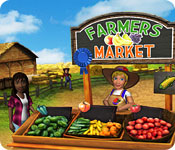 Farmers Market Game Description
Welcome to your own personal Farmers Market! Sell products like eggs, milk, beef, and corn. Combine ingredients to sell freshly-made waffles, barbecue, ice cream, fruit pies, and much more! Attract new customers with a band, and increase the price of your food with blue ribbon contests. Create markets in the city, the desert, at campgrounds, the pier, and many other exciting locations. It's up to you to build a bustling farm-fresh marketplace in this fun Time Management game!
Farmers Market full version features include:
Terrific trophies to unlock
Unique foods and goodies
Build a farm fresh marketplace
Farmers Market Game Customer Reviews
I don't usually like this type of game, but this is a fun one-and not too hard, even in timed mode. I'm not sure if I'll buy-it's on my list for a day when I want something not that challenging, or I would definitely buy it on DD. Like the music, like the graphics, a nice game.

- by brooklynblonde
I just played part of the demo and really liked it. Graphics are wonderful. A relaxing piano and fiddle tune provide pleasant ambient music. I enjoyed setting up the stalls and gathering materials. It's a farmers' market, after all! Best of all it has an untimed version so you have a choice. I'll continue with the demo a little later but it looks like a fun game and buy for me.

- by Lauralei
This is a thinking person's time management game, and a new concept, which is why I gave it five stars. The outstanding feature is the interdependence of farmers and vendors, based on how agriculture and prepared food sales have to cooperate in real life. Other enhancements contribute to the successful running of the market, such as water deliveries to hydrate thirsty workers, entertainment to attract customers and a state-fair-type judging stand to award blue ribbons, allowing price hikes. (Although the judge always awards first prize when asked to judge...) It's challenging enough for me to have failed a couple of levels the first time in only an hour or so of play, which is great for veteran TM-ers. The generous number of levels promises hours of satisfying play. Bought this one right after finishing the demo.

- by MyThreeSons
Related Games
If you like Farmers Market game, you may also like...