Gourmania 3: Zoo Zoom
Launch exotic restaurants! in addicting Gourmania 3: Zoo Zoom Game
System Requirements
OS: Windows XP/Vista
CPU: 1.6 GHz
RAM: 256 MB
DirectX: 9.0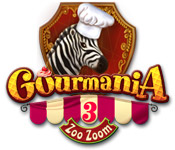 Gourmania 3: Zoo Zoom Game Description
Help Victoria patch things up with her estranged father by launching a chain of exotic restaurants in Gourmania 3: Zoo Zoom! Find the ingredients for spicy fajitas at Tres Amigos, or prepare a mouthwatering Greek Salad at Aesop's Tables! From pouring hot java at Bean Me Up to serving ice-cold treats at Beaches and Cream, there's never a dull moment as you work quickly to please your customers and increase your profits! Between levels, build a zoo featuring the five animals on Victoria's family crest.
Gourmania 3: Zoo Zoom full version features include:
Unique gameplay
Wonderful excitement
Launch exotic restaurants!
Casual and Expert modes
Five mini-quests
Gourmania 3: Zoo Zoom Game Customer Reviews
I actually thought I wouldn't like this after the first 20 minutes or so but I continued on and I am glad I did. It is a hidden object game and more. Basically you are putting together food. I played in the un-timed mode. At first I thought you were only going to have a few different restaurants to work from but as I went on they kept adding more and more. That keeps it fun and gives a nice variety.

At the same time you are cooking up food you are building a zoo. Not only do you build and decorate you also have to maintain your animals. I like that as well.

The only part of the game I don't care too much for is putting objects in one picture to match another. Its too easy. Plus those pictures are not exciting. They could have skipped it all together.

Overall I like this game and will probably buy it.

- by Slowpokie
Like the first two gourmania games, this one is excellent. My only problem with this one is that the level of head chef is very challanging to achieve, so this may put off people who are new to h.o. games. Other than that, I love it.

- by susanlucen
This game reminded me of Gardenscapes sort of. You work at each restaurant filling the customers orders. After that, you can update your zoo. In addition there are tasks you sometimes do for each animal, like for example give the zebra a bath or feed him, in which have to search for an object or two to do this. There are other little mini games as well. I found it difficult though to find the actual food ingredients sometimes, because I didn't know what the food item looked like. For example they featured ginger root. It did NOT look anything like the ginger root I buy, but when you were stuck they had hints that helped you. Plus at times there were gifts and candy in the restaurant you could give your waiting customers to help their patience. This is a much better game than the first or second IMO. I would have liked to play longer and wished it were All Access. The hour was up far too quickly.

- by galet09
Related Games
If you like Gourmania 3: Zoo Zoom game, you may also like...