Farmington Tales 2: Winter Crop
Explore snowy Dahlia Farms! in addicting Farmington Tales 2: Winter Crop Game
System Requirements
OS: Windows XP/Windows Vista/Windows 7/Windows 8
CPU: 1.0 GHz
RAM: 1024 MB
DirectX: 9.0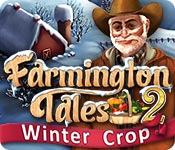 Farmington Tales 2: Winter Crop Game Description
Explore snowy Dahlia Farms in this unique hidden object/farming sim hybrid! Floyd and Dahlia have retired and Kaylee has taken over, but winter is setting in and she's a bit out of her element. Search the farm for items to sell in the market, plant and harvest crops, and buy new upgrades to fix up the farm. Earn bonuses and unlock new items to buy in the shop to make Dahlia Farms run smoother than ever!
Farmington Tales 2: Winter Crop full version features include:
Gorgeous wintertime visuals!
Over 85 puzzles.
Dozens of unlockable trophies.
All new quest system!
Farmington Tales 2: Winter Crop Game Customer Reviews
Stunning graphics, easy to understand, new puzzles, and same old Floyd. Last time we became Farm of the Year, this time we become something else that's beautiful (I want you to be surprised). Fun, entertaining, well worth the money. Long game play, captivating storyline and a new foe to beat. Floyd's goat's are a little hard to see in the snow, but not impossible. Try it and fall in love all over again with the characters.

- by Thumper38
This game is great! Really clever HO scenes with optional goals to go for at all times, bonus gems to find, and very pretty winterey scenes. Between each scene you get to fix up the farm sorta Farmville style. You can plant tons of different crops, sell items and crops in the market, take care of the farm animals, etc. There are also tons of extra trophies to get. Fun game!

- by 33365212
This is a very unique game, a combination of HO game and Farm Sim with Fix it Up gameplay elements. I did not yet see any game that is similar. The Farm Sim part is laid back, very relaxing. The soothing country style music adds to the overall relaxing experience. The HO scenes are great, no junkpile. There is so much to do, theres quests, trophys, minigames, bonus goals etc. and Farmington Tales 2 fits it all together very well. And its long. My favourite game now.

- by Capri66
I enjoyed the original of this series and this one is another winner. Everything is winter but that doesn't stop Floyd and the gang from growin veggies and marketing them. You have the usual things to do such as water and feed, and plant. Plus quests and finding objects from a list in the various locations. Lots of dialog but for those who don't like that you can skip. I think it's charming and it keeps you busy plus the graphics are high quality. An all around great game.

- by galet09
A another great game for the whole family. This is the winter version of Farmington Tales. You still have to maintain the farm by planting, feeding the farm animals building buildings. This game will keep you going for awhile no quick game here. I have only got started and bought this game, that is how good it is. A great value for you money.

- by a41249
Related Games
If you like Farmington Tales 2: Winter Crop game, you may also like...