Millennium Secrets: Emerald Curse
Help Kate save her friend! in addicting Millennium Secrets: Emerald Curse Game
System Requirements
OS: Windows XP/Vista
CPU: 1.0 GHz
RAM: 256 MB
DirectX: 8.0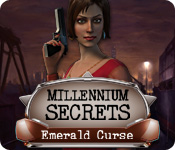 Millennium Secrets: Emerald Curse Game Description
Kate receives a call from her old friend Archibald Jones, a professor who's an expert in ancient civilizations. He asks her to retrieve a very important briefcase from a secret location in New York City and deliver it to the authorities, but before he can explain further, Kate hears voices and then the call ends abruptly. Help Kate save her friend and find the mysterious briefcase! Travel across the world in Millennium Secrets: Emerald Curse, a fun Hidden Object game.
Millennium Secrets: Emerald Curse full version features include:
Gorgeous scenes
Immersive atmosphere
Save Archibald Jones!
Millennium Secrets: Emerald Curse Game Customer Reviews
I give it 4.5 stars. This is a very solid 3D adventure game--all HO are used in the course of the game, so no searching for hotdogs in the rafters. Graphics are a bit stiff, but o/w it was well put together with varied scenery, subtle pleasant music and an interesting story. I played the advanced game, which worked out well; there was no excessive hand-holding or directives about what to do next. It's true the characters weren't well-developed, but I see great potential for this being a series. The ending was smooth, broadly hinting at a sequel. Mini-games weren't necessarily cutting-edge, but well-presented. I personally like to rummage through drawers, push things aside, find hidden niches, etc in a game. It gives a more realistic feel to the adventure rather than just checking off a grocery list of HOs in a hopelessly cluttered scene.

- by gobaba
Fun casual adventure game. I thought the graphics were very good, despite the boxy look. I felt the story was compelling and the gameplay was very cohesive and intuitive. I liked how interactive the environment was - you had to check drawers, move pictures and open doors. The best part to me was all of the minigames and puzzles. While they weren't as difficult as I would have liked, I enjoyed the variety and creativity of them. This game has one big improvement over Annabel - the inventory! In Annabel, you couldn't pick up items until the game specifically asked for them, meaning a lot of going back and forth. This problem has been fixed in this game and the inventory now works more like a true adventure game. The game is a good length, too. Very enjoyable and, at $6.99, I would definitely recommend.

- by jaylee1204
Related Games
If you like Millennium Secrets: Emerald Curse game, you may also like...