Fashion Fits
Help Francie run a fast paced clothing store! in addicting Fashion Fits Game
System Requirements
OS: Windows 98, Windows 2000, Windows XP, Windows Vista
Memory: 256 MB
DirectX: 7.0 or later
CPU: P800
Video: 32MB Video Card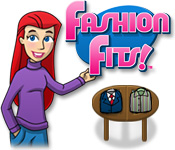 Fashion Fits Game Description
Francie just got a new job at the Uber-Mart clothing store. The only problem is she's the only employee! Help Francie run a fast paced clothing store by stocking tables, cleaning fitting rooms, providing customer service, and more! It's up to you to set the fashion trends by purchasing new clothing. And don't worry about your mean boss! Complete the first year at Uber-Mart and then help Francie open up her own line of clothing stores from a sunny beach boutique to a posh department store!
Fashion Fits full version features include:
More Than 55 Fashion Filled Levels!
13 Different Customer Types!
5 Stores Each With A Different Strategy!
Mannequin Mini-Game!
Fashion Fits Game Customer Reviews
I absolutly loved this game! I would actually spend money on getting this game! Its very fast paced and you have a lot to actually think about! Not only to you have to make sure that the shelves are stocked you have take items out of the dressing rooms like real life, ring up customers, and also they come the counter and request certain items and as the game goes along you get to upgrade to higher priced items! Very worth the time to download and would spend money on this game! Highly recommended!

- by nipmub10
Love it, love it, love it! Fashion fits offers lots of choices so no level is ever the same! My kids love it too!

- by hottgyrl00
I love time management games, and this is one of the really fun ones. It gets very challenging as you go along. The graphics are okay and the sound is average. Overall, I think the game is very fun and I recommend it.

- by nikeebaby
Related Games
If you like Fashion Fits game, you may also like...