Fatal Hearts
Solve the mysteries behind your dreams in Fatal Hearts! in addicting Fatal Hearts Game
System Requirements
OS: Windows 2000, Windows XP, Windows Vista
Memory: 64 MB
DirectX: 8.0 or later
CPU: P600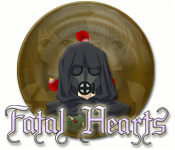 Fatal Hearts Game Description
Wolves howl in the night, and vampires lurk in the shadows. Are the dreams that Christina is having really nightmares or visions of the future? Is she surrounded by trusted friends or dangerous enemies? Your choices will change the path of the story and Christina's destiny. Make decisions, solve puzzles, and play minigames to reach one of fourteen unique endings in the replayable adventure game of Fatal Hearts!
Fatal Hearts full version features include:
Find Romance And Adventure!
Your Choices Change The Story And Outcome!
14 Different Endings To Discover!
Lots Of Puzzles And Mini-Games!
Fatal Hearts Game Customer Reviews
Fatal Hearts is about a 15 year old girl (which is typical of Japanese anime stories) who you control the life of, by choosing different options and succeeding puzzles to lead her to one of 14 endings. The game is more story based but with an addition of puzzles, some of which are pretty hard and others that are way too easy. The graphics I found very pleasant to look at, they are drawn by different artists but the images do blend in together really well. The emotions on the characters are also Japanese style anime that I found enjoyable. Even though the characters don't speak the dialog, the animation tends to show how they feel about certain situations. The music in the background is calm and relaxing, the sound effects are also nice to hear and bring in a good atmosphere to the game. The gameplay is basically a click of the mouse however, if you get tired of clicking you can make the story continue by itself in the options. This I found handy to use. If you love story-based or puzzle games you may want to try out this.

- by Fuzzles
Related Games
If you like Fatal Hearts game, you may also like...