Youda Survivor 2
Go back to the island! in addicting Youda Survivor 2 Game
System Requirements
OS: Windows XP/Vista
CPU: 1.0 GHz
RAM: 1280 MB
DirectX: 9.0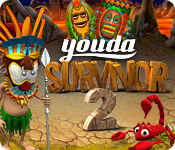 Youda Survivor 2 Game Description
Go back to the island where it all began and start a Time Management adventure that will change you... forever! Help your befriended tribe face your common nemeses, once again, and retrieve a sacred talisman that's gone missing. Improve your skills to survive the transformed island and stop the danger that is lurking over the entire planet in Youda Survivor 2!
Youda Survivor 2 full version features include:
Return to the island of adventure in this spectacular Time Management sequel.
Help natives turn back the clock to save their island and the entire planet.
Meet exotic creatures and learn new potion recipes in over 100 fantastic levels.
Select from two playable characters each with distinct capabilities.
Youda Survivor 2 Game Customer Reviews
This is a good game. You go back to the island and cast of characters from the first Youda Survivor game, but this game you have to save the world. You have the choice of being either a man or woman and each has its perts. The pace at the beginning of the game is average then picks up quick in certain areas. Many areas you have to decide what you will do first. And the game has bonus levels. In total, I believe there are more than 60 levels, maybe 100. I will be playing this again.

- by naner
I enjoyed the first Youda Survivor and was excited to see the new version. It has not been disappointing and I have not completed all the rounds yet. I like being able to go back after upgrading tools and replay a round for a gold status. The new version is enough different but still similar to the first one to be challenging and fun.

- by texaslu
As a Farm Frenzy fan, I was surprised at how much I enjoyed Youda Survivor 2. Although difficult to achieve gold in many of the upper levels, once you get through the entire game and go back with all the upgrades, it becomes more possible to get gold and best times. The graphics are even better than FF and you must give a lot of thought on some levels about what to do first. The most helpful upgrade for me when products are needed is the "fast machine." It works best to get the product that you need most of first by speeding up machines and then go on to get the next products in the same manner. It also works great to get the $$ goals in a hurry by speeding up the process to get the most expensive products done in a hurry. Just be sure to keep water on hand and don't run out of health points or you must start the level over. Another excellent upgrade is the lightning which takes care of all pirates so you obtain their loot. Just remember that all of the items you use cost health points, so be judicious. The only time I used the recipes for more health points is when I only needed a $$ goal. Anyone who enjoys FF should have fun with Survivor 2. My only complaint is that I never figured out why my cook did not cook potions in 2 seconds, even though I think I have the highest level, but it just made the game more challenging, so I guess I really can't complain.

- by maigheu
wow what a difference i bought it right after trial i like it more challengng more differneces more pirates now if i could keep my mouse from freezing up when i have alot of pirates on screen that would be great.

- by vahlcanna1
Related Games
If you like Youda Survivor 2 game, you may also like...