Fix-It-Up Eighties: Meet Kate's Parents
Find out how Kate's parents met! in addicting Fix-It-Up Eighties: Meet Kate's Parents Game
System Requirements
OS: Windows XP/Vista
CPU: 1.0 GHz
RAM: 512 MB
DirectX: 9.0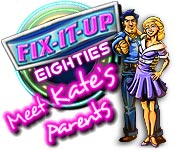 Fix-It-Up Eighties: Meet Kate's Parents Game Description
Travel back to the most radical decade, the 80s, and Meet Kate's Parents in this incredible Time Management game! Help these two young lovebirds keep their grouchy boss at bay as you rent out cars, upgrade them, give them new paint jobs, and even turn them into convertibles! Make as much money as you can to pay the bills and purchase incredible new upgrades for your lot in Fix-it-up Eighties: Meet Kate's Parents!
Fix-It-Up Eighties: Meet Kate's Parents full version features include:
Fix-It-Up Eighties: Meet Kate's Parents Game Customer Reviews
The third and new installment of Fix it up is out and a great a game as the other two! Better than the first (the technical bugs were a bother) and, so far, as enjoyable as the second with a few minor graphic improvements, except that I have the feeling that they have put the Golden Time a bit harder (the second was almost too easy sometimes).

Minor change, instead of click-drag-drop, you move the cars by click-move-click to drop. Less hard on the mouse finger but a bit anoying until you get used to it. I liked to click on a car to check the status (waxed, moded...) now I have to double-click or it gets stuck to the pointer! They should have added a hover function to see the statuses faster!

Definitively buy for me.

- by alitxu
Love the Fix-it-up games. Needed more of a tutorial for newbies, though. If you're new, I'd start with an older version - they are very fun with better tutorials. For me, very enjoyable TM game. Thought it was longer than the previous ones.

- by blulapis
OMG! Loooved this game, I was so excited when I saw it had been released! I bought Kate's Adventure and World Tour, and I knew I would like this one also! I really hope they bring out more and more as they're some of my very favourite games.

The only negatives, are that I wish there was more goals to give longer levels and I played the game in only a few hours so it was a bit short - more levels would have been amazing!

One of the reasons, I like this game so much is because instead of being limited to do certain things like in some TM games, you can develop your own strategy to earn money the way u want to, i.e. sell a car, or keep it for rental to earn your money or perhaps you buy to scrap and use parts or quick sale or long term rent, the choice is up to you! This is a great perk as I like to put myself to the test by putting myself in the deep end instead of just being about speed! (I think it is easier to navigate your cursor with a mouse - and I have a laptop which from my experience is harder to be as fast using finger sensor).

I won't bang on anymore, but I absolutely love this game for the last time! Yes Yes Yes!

- by Daniiellle
Related Games
If you like Fix-It-Up Eighties: Meet Kate's Parents game, you may also like...