Forgotten Riddles: The Moonlight Sonatas
Solve riddles from the ghost of Amadeus. in addicting Forgotten Riddles: The Moonlight Sonatas Game
System Requirements
OS: Windows XP/Vista
CPU: 600 Mhz
RAM: 128 MB
DirectX: 6.0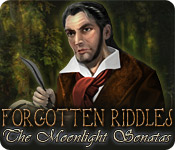 Forgotten Riddles: The Moonlight Sonatas Game Description
Francis von Amadeus was a child prodigy and talented composer. The city of Godesberg has given you access to his journal filled with secrets and riddles. Use the clues to detect hidden objects within the many chambers of the Moonlight Opera House. You'll notice a gaunt, ghostly figure still graces the second floor balcony. Between treble clefs and Forgotten Riddles, can you solve the mystery behind the Moonlight Sonatas?
Forgotten Riddles: The Moonlight Sonatas full version features include:
Haunting Hidden Object fun
Thousands of riddles
Learn secrets of the Opera House
Forgotten Riddles: The Moonlight Sonatas Game Customer Reviews
A different twist to HO games, finding objects with riddles. Graphics and music very good. Interesting story line. Mini puzzles to open other rooms. An option for extra hints by solving a puzzle. A very good game. I really enjoyed it.

- by scooter46
This is just as the title implies - to find the objects you must solve the riddle. Some are easy to figure out, some...not so much. One type of mini game where you put a jigsaw puzzle together to get extra hints. Only 10 Levels, so the game is not too long. I really enjoyed this, would recommend it to anyone tired of the same-old-fair.

- by mmij58
This game is 'something different' with having riddles to solve in order to find the objects. I enjoyed it but played only in short increments as the riddle-solving tires out my brain:) I found it superior to the early MCFs, by the way- there is more to it than just finding things.

- by catlynn54
Related Games
If you like Forgotten Riddles: The Moonlight Sonatas game, you may also like...