Robinson Crusoe and the Cursed Pirates
Robinson Crusoe is back! in addicting Robinson Crusoe and the Cursed Pirates Game
System Requirements
OS: Windows XP/Vista
CPU: 1.0 GHz
RAM: 256 MB
DirectX: 9.0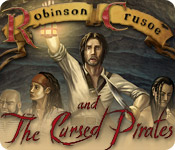 Robinson Crusoe and the Cursed Pirates Game Description
Robinson Crusoe and his friend Friday are back in their greatest adventure yet in Robinson Crusoe and the Cursed Pirates! After escaping the inhabited island, Robinson Crusoe sets sail for Brazil. Four weeks later, however, he and Friday encounter an uncharted land mass in the middle of the ocean. Take on the undead pirates and find a cure for a mysterious voodoo curse in this Hidden Object Adventure game!
Robinson Crusoe and the Cursed Pirates full version features include:
Gorgeous scenery
Fantastic puzzles
Robinson Crusoe and the Cursed Pirates Game Customer Reviews
This is without a doubt one of the best interactive HOGs I've played and I have played many! Not only were the graphics wonderful but the objects went with the scenes. The music and ambient sounds were perfect. The hint system is very generous. I usually don't like to use hints but I did use them while playing the trial because I wanted to move on. I loved the "animation" and all of the little extras that were put into this game.

Kudos to the developers. Not only did I enjoy the game play but it made me laugh. Clever little things like wanting to know what the monkey was going to change into next, going up and down the well and playing mini-games that weren't run of the mill.

For any of you who appreciate excellent graphics, good music and sound, a bit quirky sense of humor and good, but not frustrating, game play...this is the game for you. Har, har, har.

- by DamaDeLuz
Finished finally and this is a brilliant game. Excellent HOG scenes, just difficult enough. Inventive games and interesting derivative tasks (finding the opposite of an item). Really loved it! Has a nice sense of humor and some laugh out loud moments too, Took me on and off all day - but I really enjoyed playing this one slowly and working my way through as many of the scenes and games as I could without help (but did need some hints and skips), Two modes (untimed and timed). Started a reply and found that many of the objects are different, so will have decent replay value. Can't say enough good things about this game. It is quite a masterpiece!

- by DianaG
This, the second of the Robinson Crusoe games, is excellent. The graphics are outstanding and the game play fun and humorous. There are two game play modes-timed or un-timed which I think all games should have and the mini puzzles can be skipped which is another welcome addition. The hint button refills quickly enough, as well. All around this is an ideal game. I have no complaints at all. Anyone who is at all interested in hidden object games should certainly give this one a try.

- by angelsam19
Related Games
If you like Robinson Crusoe and the Cursed Pirates game, you may also like...