Four Houses
Unlock ancient wisdom! in addicting Four Houses Game
System Requirements
OS: Windows 2000/XP/VISTA/7/8
CPU: 600MHz or faster Processor
RAM: 128 MB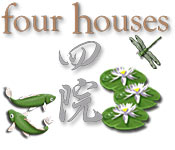 Four Houses Game Description
Bring order to the four houses by creating lines of matching shapes, colors, and numbers of objects to earn coins. When coins have been placed across the entire board, you are rewarded with more complex puzzles as well as beautiful backgrounds and ancient wisdom. Proceed from autumn to winter to spring and summer, showering the land with prosperity in a quest for wisdom and serenity.
Four Houses full version features include:
More than 380 levels.
2 gameplay modes.
7 powerups.
Four Houses Game Customer Reviews
This game seems simple, yet can be surprisingly challenging. You place tiles in horizontal or vertical rows by matching either color or item, and while you can get in a Zen groove doing that, you've also got to keep moving, as the squares that you've turned to coins will revert back to plain squares if you dawdle too long. The music is outstanding and so very peaceful. (Generally I turn the music off on games because it's usually annoying and repetitious, so this is a nice change for me.) Love the quotations from Lao Tsu, which remind me of what's important in life. Graphics are pleasant but not outstanding, but I think that adds to the gentle, meditative quality of the game.

- by sereneorchid
I have owned this little game for a while and often return to it at the end of a long and difficult day. You can see from the filesize that the game is fairly straightforward, without a lot of fancy graphics and whizbangs, or any real storyline. On-screen directions are clear and easy to understand, as is the game itself. That easy understanding, though, can be deceptive and clearing the board grows progressively more difficult at higher levels. Quiet, Eastern-derived music accompanies gameplay, and excerpts from the Tao te Ching of Lao Tzu are presented at various points, in between clearing the boards. I find this game to be soothing and meditative, while presenting just enough challenge to me to keep it interesting.

- by Slowglass
What can we say? The perfect antidote for a long, hard day at home or the office, Four Houses deserves a rightful place in yours.

- by Gamezebo
A fun, addictive puzzle game. Nicely done serene graphics and music to match. Good power-ups. It's challenging, and several levels have taken me a few tries (I haven't completed this game yet).

- by arcadiarose
Related Games
If you like Four Houses game, you may also like...