Gardenscapes: Mansion Makeover
Turn the hall into a masterpiece! in addicting Gardenscapes: Mansion Makeover Game
System Requirements
OS: Windows XP/Windows Vista/Windows 7
CPU: 1.0 GHz
RAM: 512 MB
DirectX: 9.0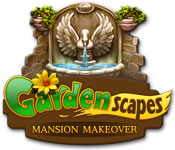 Gardenscapes: Mansion Makeover Game Description
Welcome back to Gardenscapes! Having restored the garden to its beauty and grandeur, it's high time to have some guests over to show off! Thankfully, the mansion has a spacious hall for everyone to gather. The only problem is that the hall is in quite a dilapidated state: the wallpaper is curling and peeled, the fireplace cold and broken, and heaps of old newspapers lie scattered about. It's time to roll up the old sleeves once more, and with the heroic assistance of Austin the butler, turn the hall into a masterpiece!
Gardenscapes: Mansion Makeover full version features include:
60 unique items for interior design
Animated screensaver and original soundtracks
Turn the hall into a masterpiece!
3 different i-Spy modes, plus quests and mini-games
Gardenscapes: Mansion Makeover Game Customer Reviews
If you loved the first Gardenscapes, you will love this one. The gameplay is the same but this time you are doing up the inside of the house rather than the garden (maybe Austin ought to invest in a cleaner though, theres far too much junk in his rooms lol) You have to find and sell objects from rooms to make money to invest in improvements (there are three choices for every area you improve e.g. three carpets to choose from etc) You can choose from timed mode or relaxed mode. I went for timed and the timer doesn't run too fast. You can find different kinds of hint to use, question marks, camera and thermometer, each of which helps you in a different way. The graphics are stunning and the musics quite nice. All in all, this one is a keeper!

- by neiljennie
Very nice and clear graphics. Pleasant sound and you can interact with the dog and other things in the house. The object is to make enough money so that you can slowly renovate the big hall by selling things to customers. They come and tell you what they want, you find it.If not you have hints and also camera, thermostat to help finding things easier.Once you got enough money you get to choose from 3 different designs that make the hall look nicer, such as wallpaper, aquarium, furniture etc.Small mini games such as finding ties for a tie contest throw keep it from getting to one sided. Pleasant friendly atmosphere and I love to design my own look. Loved all the other games and this one is no exception.

- by Moabit
Finally they are back! Austin and his friends and let's not forget the pet dog who you get to name. This time Austine, our friendly Butler needs your help to re-do the inside of the mansion before his guests arrives. There are many rooms to go over and take part in a rummage sale. The Graphics and annimations are top-notch. You have great sound effects, lots of HOG scenes and two modes to play; timed or relax. The object is to make money off the sales and buy furnitures and objcts. If you are a fan of HOGs and love the some quirkiness and amusment in your life, this game is a must. There are hints to collect along the way, mini games to play and puzzels to solve. There is so much going on, I especially love clicking on Austin or h?s dog to make them do things around the house. This game is pure delight and joy. Something to paly with the kids and in my case, just to put a smile on my face. Kudos to the developers for bringing them back to us.

- by Nilosh
I still play Gardenscapes alot and was SO excited to find a sequel AND one that is as good as the original. The cute dog is there and they have added a few extra games, not just hidden objects to sell. I have to get to town now but I KNOW what I am playing this afternoon. I purchased this with only 10 minutes of demo played. This is a great game!

- by caseymom
What a great game to relax with. Not difficult to find objects and no taxing brain teaser puzzles to solve. You can create another player and remake your mansion as many times as you want. Many levels to play before you are done. If you want a relaxing game to buy, this is the one.

- by Fayleen
Related Games
If you like Gardenscapes: Mansion Makeover game, you may also like...