G.H.O.S.T Chronicles: Phantom of the Renaissance Faire
Track down a mysterious ghost! in addicting G.H.O.S.T Chronicles: Phantom of the Renaissance Faire Game
System Requirements
OS: Windows XP/Vista
CPU: 1.0 GHz
RAM: 512 MB
DirectX: 9.1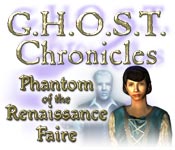 G.H.O.S.T Chronicles: Phantom of the Renaissance Faire Game Description
G.H.O.S.T. Chronicles: Phantom of the Renaissance Faire finds you hot on the trail of a menacing and terrifying ghost. This vengeful ghost has damaged attractions, vandalized shops and has driven away the park patrons. Inspect the park and determine if this is indeed ghostly activity or just a cruel and disastrous hoax. It is up to you to find out who is behind the haunting at the Renaissance Faire in this exciting Hidden Object Adventure game.
G.H.O.S.T Chronicles: Phantom of the Renaissance Faire full version features include:
Gripping gameplay
Spooky atmosphere
Track down the ghost!
Game Screenshots
(click on G.H.O.S.T Chronicles: Phantom of the Renaissance Faire game screenshots to zoom)
G.H.O.S.T Chronicles: Phantom of the Renaissance Faire Game Customer Reviews
The only negative thing I can say about this game is that I wish it had been longer because I enjoyed it so much. I have up to 40 unfinished games on my PC because I lost interest and/or they were too long. Not so with this game. I found it hard to tear myself away from it. I would give it 5 stars easy if it had just been a tad longer, but I really enjoyed my time playing it.

- by scotcat
I beta tested this and loved it immediately. It is the type of adventure where you go from place to place to find what you need and accomplish the necessary tasks, but it is also organized to greatly reduce the "I'm lost!" problem. The game is set up in "areas" that contain individual scenes where you find the objects and solve puzzles. You are not allowed to leave an area until all your objectives have been completed. . The hint system is very good, even providing ways to accumulate more hints by finding hidden "fairies" in each location. There is no timer, the graphics are excellent and the storyline allows your imagination to thrive. Good stuff!

- by thistle809
I only played through the one-hour trial but I liked that well-enough that I'll buy it. This is a really fun game; it's different and I like that. I appreciate it anytime someone puts in the effort to offer something original. I played through using the most difficult options and I scratched my head during the first scene before I caught on. But I liked that. I loved the graphics, very well-done and atmospheric. In fact, at one point I thought "Hmmm, I wouldn't mind retiring there" :) And that is kind of weird in itself. You have to give the trial a ... trial ... I'm sure you won't regret taking the time. I'm off to play teh rest of it....

- by danmar
Related Games
If you like G.H.O.S.T Chronicles: Phantom of the Renaissance Faire game, you may also like...