Kuros
Restore balance in a world teetering on the brink of destruction! in addicting Kuros Game
System Requirements
OS: Windows XP/Vista
CPU: 800 Mhz
RAM: 256 MB
DirectX: 9.0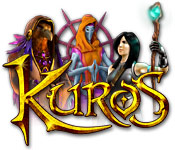 Kuros Game Description
Go on a hidden object adventure as Katya, a young explorer who can't remember her past. Determined to piece her memories back together, she sets out to explore the mysterious alien world she has awakened on: Kuros. With the help of 6 allies, restore balance to a world teetering on the brink of destruction!
Kuros full version features include:
Over 25 unique locations in 5 magical realms
Over 30 mini-game puzzles
More than 100 hidden objects to be uncovered
6 unique allies providing guidance in your quest
Kuros Game Customer Reviews
Beautiful. Mysterious. Challenging, but not too hard. Others have complained that it's too short, but it's just right for the level of work that went into the game. Reminds me a lot of the Myst series in that not too much is explained, you have to figure out things on your own. Eagerly awaiting the sequel.

- by zahnprod
This is a great game. Love the adventure and HO combination. Kinda keeps you on the edge of your seat not sure what to expect which is nice in these days of too much repetition in a lot of games. You have to really think through the puzzles which is frustrating, but a real plus when you complete it. Thanks Sandlot for a great game.

- by MURPHY
Well what do I have to say.. In one word one of the greatest games ever..Challaging, beautiful sceenery, a bit like the Glyph games as well as an organ like game as from the Dream Chronicles. So a bit of this and a bit of that..No problems it's maybe a bit short. I enjoyed ever minute. Found out how to play after some mistakes on my side..LOL. Played it 3 times already, still searching for the map parts and cann't get enough of this marvellous game. Thumbs up Sandelot!! Be my guest to make another one!!

- by Levendig
Related Games
If you like Kuros game, you may also like...