G.H.O.S.T. Hunters: The Haunting of Majesty Manor
Search for clues and solve a haunted mystery! in addicting G.H.O.S.T. Hunters: The Haunting of Majesty Manor Game
System Requirements
OS: Windows 2000/XP/VISTA
Memory: 512 MB
CPU: P 1.0GHz
Video: nVidia or ATI accelerated 3D video card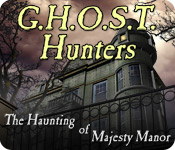 G.H.O.S.T. Hunters: The Haunting of Majesty Manor Game Description
You are an investigator for G.H.O.S.T. Hunters and have been called to Majesty Manor to investigate a possible haunting or to uncover a cruel hoax. Search for clues, using the fantastic hint feature if needed, and generate a list of suspects as you progress through 19 unique environments. You can then eliminate suspects as you rush between the dark, shadowy attic and the haunted rooms in a final heart-pounding race against time! Can you solve this haunted mystery?
G.H.O.S.T. Hunters: The Haunting of Majesty Manor full version features include:
Solve A Haunted Mystery!
19 Unique Environments!
Fantastic Hint Feature!
Find Additional Bonus Items!
Game Screenshots
(click on G.H.O.S.T. Hunters: The Haunting of Majesty Manor game screenshots to zoom)
G.H.O.S.T. Hunters: The Haunting of Majesty Manor Game Customer Reviews
This game had everything for a seek and find. The setting was fun and enjoyable and the graphics really make the game. The objects are sometimes diffucult to find which makes for a great challenge and hours of great fun.

- by robhein
this game is great another mystery game in a large mansion.i like the grephics,the sound,and the gameplay but it would've been a better game if it included puzzles like the game mcf ravenhearst.

- by juanttb5
This is the typical hidden object game. Great for the kids and mom likes to help....lol. We put this on our XP system with no problems whatsoever. Game played flawlessly and did not slow the system down. Not sure what the other person's laptop problem was but don't let that stop you from purchasing a fun game.

- by Breezeie
The great thing about this game is the choice you have with two playing modes. Each time you play the searches change, not the same ole thing, giving you plenty of great replays. This game is non-stressful. In the relaxed mode you are not pushed along, you can take your time and enjoy the game. The graphics are pretty good, the story line is interesting, the searches are great. I'm still fresh in the game having tried the trial first to see what I thought about it, if I wanted to buy it. I love it!! It is all I like in a hidden object game. Have to put it up there as one of the best I've played and one I want to play over and over again.

- by annemaccat
Related Games
If you like G.H.O.S.T. Hunters: The Haunting of Majesty Manor game, you may also like...