Robin's Quest: A Legend Born
Rob from the rich and give to the poor! in addicting Robin's Quest: A Legend Born Game
System Requirements
OS: Windows XP/Vista/7/8
CPU: 1.8 GHz
RAM: 512 MB
DirectX: 8.1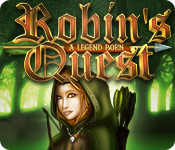 Robin's Quest: A Legend Born Game Description
Rob from the rich and give to the poor! When an evil ruler taxes his people to near starvation, it's up to Robin to save the day! Help our brave new hero rise from humble beginnings to becoming the champion remembered in history. Gather a band of merry men to help you solve tricky puzzles, master tough minigames, and win tricky archery competitions in Robin's Quest, a Hidden Object Puzzle Adventure game.
Robin's Quest: A Legend Born full version features include:
Unique artwork
Help Robin save the day!
Classic storyline
Robin's Quest: A Legend Born Game Customer Reviews
I loved this game. It was so much fun, and that is what I look for in a game. The graphics were so lovely; the colors so pleasing to the eye. The acoustic guitar music was so soothing and fit the period. The lovely English accents in the voice overs added so much to this game, Without them it would not have been as appealing. The story was a twist on the original tale, with Robin Hood being a woman and that just made it more fun. The many things to gather, and the really nice mini puzzles just made this a wonderfully entertaining game which is beautifully done.

- by Mummze_1
Lately, I've found that there are too many adventures where I start and never finish because my head hurts trying to figure out what to do next and wandering around from room to room. Robin's Quest does an excellent job of merging adventure with hidden objects but allows those who want a little extra direction to get it easily. It's very nicely drawn, although some of the characters themselves are more cartoonish than I feel is appropriate....sort of takes away from the rest of the beautiful art. Robin is a likable character and you are rooting for her from the start....I caught myself thinking a few times, "enough of this, we have to rescue her husband!". Each quest is challenging and contains a variety of minigames including an interesting one with wood stacking. The game has a decent length. As you go along, you collect wanted posters with Robin's image on them and I didn't get anywhere near all of them. Guess I'll have to play it again and it will be a pleasure. Also, there's some lovely music during the HOG sequences, though as it got late at night it was a little TOO soothing, lol. I liked the mechanics of the game...the way you choose which merry man or woman to assist you or whether to handle it yourself....the "area cleared" sign (wish more games had that)...all very well done.

- by Pertigal
Related Games
If you like Robin's Quest: A Legend Born game, you may also like...