Vault Cracker
Help Melissa find her son! in addicting Vault Cracker Game
System Requirements
OS: Windows XP/Vista
CPU: 1.2 GHz
RAM: 512 MB
DirectX: 8.1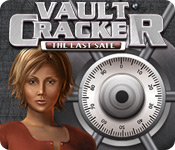 Vault Cracker Game Description
Melissa lives an ideal life with her eight-year-old son Noah. But she's no ordinary mom; she was once one of the most sought-after cat burglars in the world. But she gave up a life of crime and found a new identity. After years of living abroad under a false identity, she decided to make a trip to her hometown and show her son where she grew up. Melissa must find her son, figure out who's behind his kidnapping, and stay off the police radar in Vault Cracker The Last Safe, a fun Hidden Object game.
Vault Cracker full version features include:
Customizable characters
Immersive storyline
Find Melissa's son!
Vault Cracker Game Customer Reviews
Good HOG game with some rather easy puzzles. I like the game and the story line was great. Actually the storyline deserved 5 stars, the game complexity (or should I say lack of) made me give it 4 starts and not 5. Graphics and music were both excellent, the game play was repetitive and got old quickly, the game play never evolved, it peaked early on. Worth a play, but don't expect a climatic finish, at least as far as game play is involved. Great effort by Gogi - love their stuff!

- by Bunyflufy
Finally, a game that maintains one's interest, doesn't insult one's mental aptitude and/or gaming skills--well done Gogii! Guess you can tell I enjoyed this game, the storyline, the graphics--everything about this game is well done. You've the option to even skip the mini-games, if one chooses. Liked the elimination of people by eliminating like characteristics. Thought the game to be refreshing--and IMHO, it's definitely about time! And, a game that isn't over in 45 minutes. Definitely will replay the game.

- by nance91947
Very nice HOG Game - Has some nice twists to it and it seems to move pretty fast so I didn't get bored with it. Yes the hidden objects are fairly easy to find but that works well with the mini games mixed in with it. I love hunting around all the different scenes and had a lot of fun with this!

- by Smiley1
Related Games
If you like Vault Cracker game, you may also like...