Grim Tales: The Legacy
Save your sister and her family! in addicting Grim Tales: The Legacy Game
System Requirements
OS: Windows XP/Vista/Win7/8
CPU: 2.5 GHz
RAM: 1024 MB
DirectX: 9.0
Hard Drive: 752 MB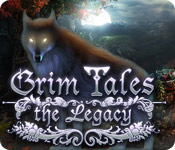 Grim Tales: The Legacy Game Description
After being invited to the Christening of your sister's son, you arrive to find a deserted estate in Grim Tales: The Legacy! After getting married to the love of her life, it seems like a happy ending is right around the corner for your sister. However, all is not well. The sounds of ravenous beasts echo through the halls of the once great estate and your sister is missing! Use your Hidden Object talents to track down her family and save them in Grim Tales: The Legacy!
Grim Tales: The Legacy full version features include:
Explore a deserted estate
Avoid dangerous beasts
For a more in depth experience, check out the Collector's Edition
Grim Tales: The Legacy Game Customer Reviews
Great intro! Short, but enough to inspire to go ahead. The story is interesting and very well developed. The graphics are outstanding, crisp, and perfect in details! All along the way you have things to collect, or interact. Often you do not know what or when will use them. Sometimes hint helps a lot, or is even necessary!

The HOS are well made, with good level of difficulty. I loved the mini games. Different, challenging and some are brand new. Some scenes are made to scare, as the wild wolf in the dark (although not always scare you) and others are very cute, like the wolf baby in the cradle. A game not to be missed !!!

- by Rebr2009
I love Hidden Objects games and this one has everything! Very challenging levels within levels, ease of moving from area to area and mind boggleing tasks! Grapics and story line are both really good! Great gameplay! I'd love to see more "HO" games like this one!

- by Anonymous
This is one of the best games I've played in a long time. I waited for the SE and this adventure HOG is still plenty long. Game play is extremely user-friendly with a map which not only allows you to zoom directly to the location, but also shows you a picture of it and keeps a task list specific to that location. Plus hints are the ideal "one at a time" ones that give needed occasional nudge. No pesky journal that keeps glinting at you demanding to be read. Hints and skips refill quickly. No items within items in the search scenes, but hunts were good overall with good selection of objects and mostly fair hiding. This is exactly the level of difficulty I'm looking for (but I play in casual anyway) and the only thing I could fault here was the choice of puzzles, but those are mostly a matter of taste. Really fun game.

- by Miranda22
Every time I thought the game was near the end, another door would open and it would continue. The graphics are great and there are an awesome number of mini games, each unique. Thoroughly enjoyed it - my favorite so far

- by Gail Girl
Related Games
If you like Grim Tales: The Legacy game, you may also like...