Legacy: Witch Island
Thrilling adventures await you on a mysterious island! in addicting Legacy: Witch Island Game
System Requirements
OS: Windows XP/Windows Vista/Windows 7/Windows 8
CPU: 2.0 GHz
RAM: 512 MB
DirectX: 9.0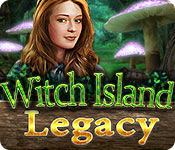 Legacy: Witch Island Game Description
An ordinary hot air balloon ride turns extraordinary when you accidentally wind up on a mysterious island. When it is revealed that this mystical land is ruled by an evil witch, you begin to realize that your arrival is not a coincidence, and the loyal people of the island are depending on you to break the witch's spell. Explore the mysterious forest, rocky mountains, dark caves and high altitude lakes as you make your way through the picturesque sceneries of the land towards the witch's castle. Can you destroy the witch's curse and reveal the secrets of the ancient prophecy?
Legacy: Witch Island full version features include:
Breathtaking sceneries and landscapes
Logic-based mini-games and bonus Match-10 play
Unconventional use of HOG scenes
Navigate your way through the story on your own unique path
Legacy: Witch Island Game Customer Reviews
First of all, the graphics are gorgeous. They storyline is great and the challenges are adequate for all gamers of every age. It's awesome to see more games coming out that are for all family members. No blood, gore, or demons.

The story line is similar but it flows good and relates well to the games and Hos. I was totally immersed in it until the demo time ran out so instantly used a credit to get it. There are collectibles, you can replay mini-games when done with main game. All in all, a great bargain for a SE.

- by yogijudy44
I really liked the game. It may not be for everyone, but was lots of fun if you like a lot of mini-games and hidden objects.

You land on a beach and your friend is gone with the storm in the hot air balloon. You find out he has been captured. There is a good story line so far. Even though so far there is no walkthrough it is very easy, more for a beginner then an expert. If you are tired as I am of the gore and blood games this game is refreshing.

The graphics are very good and there are no voice overs. I don't want to give the good stuff away so I will stop for now, but I hope all will enjoy this game as much as I.

- by agrimony
This HO game was exactly what I look for in a good game. 42 different mini games, an involved story line that draws you in and keeps building, even though you know how it's going to end you want to watch it play out. The hint button was available to show you where to go if you were stuck plus help in the HO's, and you had the ability to skip mini games if you desired. The main thing that got me with this game were the landscape drawings. The developer really created a beautiful world for the game to take place in. That alone made the game worth it to me.

- by higg5083
Related Games
If you like Legacy: Witch Island game, you may also like...