Heroes of Kalevala
Explore the mysterious land of Kalevala! in addicting Heroes of Kalevala Game
System Requirements
OS: Windows XP/Vista
CPU: 1.0 GHz
RAM: 256 MB
DirectX: 9.0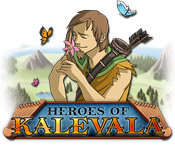 Heroes of Kalevala Game Description
Choose your favorite hero and lead your tribe towards a bright new future in the lands of Kalevala. Exciting Match 3 gameplay, powerful hero powerups, and an extensive village building game provide hours of exciting new entertainment. Experience hand-made levels featuring unique gameplay, like lock bomb combos and tar fights. Build your own village from scratch and see how it starts to thrive and produce wealth in Heroes of Kalevala.
Heroes of Kalevala full version features include:
Gripping gameplay
Exciting storyline
Explore Kalevala!
Heroes of Kalevala Game Customer Reviews
I bought it, and I'm enjoying it. Nice graphics, and the little people in my villages are cute. Especially when they "find each other" and here come the little hearts, and the hand-holding. And when someone asks for a tree--or accepts a hat. Some levels whipped me. Then I went back again and changed which hero I used and things changed. It's a fun game. And when you're up against the crow, chains or frozen stuff, AND the tar, you'd best be on your toes!

- by Pepper010
I havent played a match three game in a while. Really enjoyed this one. The graphics are nice,game is smooth, no choppieness, no waiting forever for the game to drop peices. the villagers are cute, and you can inner act with them. I am buying this game.

- by oszar2004
I just bought this game after playing the 1 hour demo. (I don't mind a timer on Match-3 games, and feel like they're sorta pointless without it.) I like the different villages, and find it a cute, relaxing game to play while I listen to music. (I like games where I can turn off the game sounds and just listen to my iPod.) Although I like iHOG type games, I feel disappointed that so many of them really only give 3-4 hours of gameplay. I don't think that'll be a problem with this one, and I'm glad about that!

- by nixyseven
Related Games
If you like Heroes of Kalevala game, you may also like...