Jewel Quest: The Sleepless Star
Track down the Sleepless Star! in addicting Jewel Quest: The Sleepless Star Game
System Requirements
OS: Windows XP/Vista
CPU: 1.0 GHz
RAM: 1024 MB
DirectX: 9.0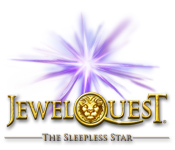 Jewel Quest: The Sleepless Star Game Description
Track down an incredible jewel in Jewel Quest ?The Sleepless Star! Help Percy Park on an epic quest through two continents! Percy discovers that the jewel has been stolen from a Native American village by an unscrupulous jewel collector! Progress through a beautifully illustrated and fully voice-acted story that includes collectible power-ups and quest options filled with your favorite Match 3 gameplay.
Jewel Quest: The Sleepless Star full version features include:
Classic gameplay
Incredible story
Track down the Sleepless Star!
Jewel Quest: The Sleepless Star Game Customer Reviews
Jewel Quest is one of my favorite games, I absolutely adore them! But this one was a little dull. Just matching over and over. Would have liked a little something different. Sound effects were good, music fit the story. All in all good game and will buy it.

- by Texas-thumper
I really like this game and the boards go right along with the story. It has great added features which help you play. So, great variety in the boards, graphics, story and bonus upgrades ; all make this a great Jewel Quest.

- by redjrn
You can't go wrong with JQ..this game is awesome, different, interesting and the graphics and music are beautiful. Well done I Win..love the different areas of play with the different levels. Again the graphics and NAI theme is beautiful. Game will do well..The only negative thing and it might not be negative as much as a personal preference is I love the GQ version that is played against other players. Also, the jewels are smaller on this game but all in all it rocks and keep more of these games coming I Win...love it, love it love.

- by lookforit
Most comments I hear about match 3 games are "not much variety, its all the same, match 3 or more of the same symbols". This is where this game is so different. All the different types of challenges like lighting fires, trapping monkeys, limited number of moves etc all keep you interested and challenged. (sometimes frustrating, those sneaky monkeys keep escaping. lol) I have played this game over and over again and never seem to get bored with it, and keep trying to better my score or speed. Definately a winner and great value for money.

- by sua_rider
Related Games
If you like Jewel Quest: The Sleepless Star game, you may also like...