Hot Dish 2: Cross Country Cook Off
Get into the Gourmet Grand Prix. in addicting Hot Dish 2: Cross Country Cook Off Game
System Requirements
OS: Windows 2000/XP/Vista
Memory: 256 MB
Processor: 700 MHz
DirectX: 8.0 or later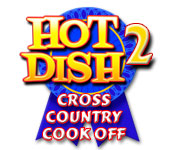 Hot Dish 2: Cross Country Cook Off Game Description
In Hot Dish 2, you get to compete against the country's top chefs in the Gourmet Grande Prix! Jet off to the Big Apple and see how your cheese cake stacks up against the best in New York. The competition is hot as you duke it out in Dallas to make the best chili dish east of the Rio Grande. You'll have to prove your skills against chefs who specialize in everything from sprouts and tofu in So Cal, to cheese steaks in Philly, and gumbo in New Orleans. More locations, more dishes, and more furious kitchen clicking make this sequel to Hot Dish an irresistible treat!
Hot Dish 2: Cross Country Cook Off full version features include:
Tasty time management
Use combos to boost your scores
Win cooking competition
More locations, more dishes
Hot Dish 2: Cross Country Cook Off Game Customer Reviews
I beta tested and purchased the first one when it came out, and I loved it. I never fished it though, and got stuck on a level 3 or 4 from the end. One of these days I have to finish it LOL The gameplay is just like the first, though it seems like they used the same Italian dishes as the first one- too bad nothing new was put in as far as these types of dishes. I love how you go all over the country with this one, and I will definitely get it.

- by AAEMH
its was fun, and i really like it, i love too make food in real life. and it was just as fun as a game. i think you should try it out.

- by ewing29@sbcglobal.net
Very interesting cooking game, good instruction, nice color/graphics, a real Time Management game (some of the dish take longer to cook than the other, need to control the time while cooking more than one dish, otherwise you can easily loose a star or two). Fun and challenging, worth to buy.

- by triplegamer
Related Games
If you like Hot Dish 2: Cross Country Cook Off game, you may also like...