Hoyle Enchanted Puzzles
Help a young wizard fulfill her destiny. in addicting Hoyle Enchanted Puzzles Game
System Requirements
OS: Windows 2000/XP/Vista
CPU: 1.6 GHz
RAM: 512 MB
DirectX: 9.0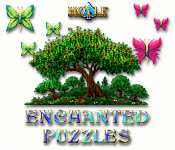 Hoyle Enchanted Puzzles Game Description
Help a young impressionable apprentice become a great wizard in Hoyle Enchanted Puzzles. Seek out the Mistress of Skye and other mentors in an array of mini-games including match-3, solitaire, mahjong, and more. Increase your sorcery skills and attain points while encountering the Gnome King, the RuneMaster, and others. Your destiny as a powerful wizard is tied to the decisions you make in the games you pick to play.
Hoyle Enchanted Puzzles full version features include:
Amazing puzzle adventure.
Whimsical characters.
Test your wizardry!
Hoyle Enchanted Puzzles Game Customer Reviews
An ever changing game with many levels and challenges. Great graphics and explanation of game as it goes on! Falling asleep would never be a problem with this game!

- by jatmey
My friend showed me this game and showed me this site - I love them BOTH!!! I like playing casual games, but I often get bored with just one game - thats why IO really loved Hoyle Enchanted Puzzles. It has so many different kinds of games to play - I just cannot get enoug of it. I especially like the fishing game and the pyromancy game - you get to shoot fireworks!

- by Zoomalicious
I play a lot of casual games, and this is by far the biggest game I have ever seen. There are so many subgames. You can sit and play this thing for hours and hours and not get bored. I especially like the Gnome game - it's a lot like Ocean Express or Tetris, but more interesting because you make matches of color as well!

- by browsejam
Related Games
If you like Hoyle Enchanted Puzzles game, you may also like...