Jack of All Tribes
Travel to the past and rule a tribe! in addicting Jack of All Tribes Game
System Requirements
OS: Windows XP/Vista
CPU: 1.0 GHz
RAM: 512 MB
DirectX: 8.1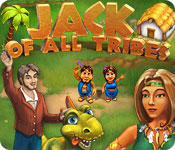 Jack of All Tribes Game Description
Help Jack travel to the past and rule a primitive tribe in Jack of all Tribes, a fun Time Management game! Search for artifacts from the future that Jack needs to return to his own time. Free the tribe from the oppressive domination of the Dumbheads and fulfill Jack's destiny. Introduce new technology to the tribe with help from the chief'sbeautiful daughter and make your way home!
Jack of All Tribes full version features include:
Incredible gameplay
Fantastic storyline
Travel to the past!
Jack of All Tribes Game Customer Reviews
Wow what a fun game it's so bright and colorful and so full of life. Everything about this game is spot on so far and I haven't played much but enough to know I had to have it so I bought it already. You build houses, gather food, feed the little people, collect materials and do favors for other tribe people. The graphics are simply awesome ! Jack is a modern day man caught in a Flintstones world and that is the best way I can describe it. So far I've only built a few huts grown a pumpkin garden chopped wood and collected money the last thing I did before I bought the game was build a cocktail bar because there is going to be a party and that was enough for me to know I had to get this one. It's a keeper for sure. You have daily goals just like any other tm game but the timer is rather generous and there is lots to do so it's a busy little game but it's just so fun and the little people talk but the only thing I've been able to hear them say is okay but they run around and get whatever you need done and they move fast. Wood, money, and a treasure chest will pop up randomly so you are always pretty covered with materials but if you need you can chop down trees. This is one fun and beautiful little game I'm loving it ! Give it a try it is most definitely worth the download you want be sorry it's simply awesome ! Thanks Big Fish for another great game !

- by gmac1007
Jack of All Tribes is a fun combination of time management game and building sim game. The Jack of All Tribes game has incredible gameplay, gorgeous graphics, fast pace and interesting features. There's plenty of humor and quirky ideas in this game. If you like the Build-a-lot games and My Kingdom for The Princess, you'll like playing Jack of All Tribes. Download Jack of All Tribes game today and travel to the Past!

- by Zoomer
Definitely! I love this game so far & I am not a real huge fan of MKFTP or Roads to Rome. This game kept me more entertained because additional story plot or new things to do kept getting added & many of the comments from the main character cracked me up. I also loved how you can make the little characters happy with bubble baths. I don't know, I feel like there is more of a connection to the characters than just mindless little workers running around. My favorite level so far has 2 tribe leaders feuding--one wanting you to build & one not--too funny. Definitely getting this one today!

- by kitty1
Related Games
If you like Jack of All Tribes game, you may also like...