Kingdom of Aurelia: Mystery of the Poisoned Dagger
Help Sam solve a mystery and rescue the Princess. in addicting Kingdom of Aurelia: Mystery of the Poisoned Dagger Game
System Requirements
OS: Windows XP/Windows Vista/Windows 7/Windows 8/Windows 10
CPU: 2.0 GHz
RAM: 1024 MB
DirectX: 9.0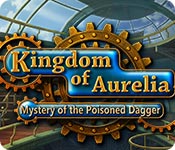 Kingdom of Aurelia: Mystery of the Poisoned Dagger Game Description
Join Sam, a boy of thirteen years old, and his friend Princess Aurora as they embark on an amazing adventure in the Kingdom of Aurelia. Just as this incredible world entered into an epoch of the Renaissance and technological development, a plot directed against the royal family is discovered. It's up to you to find the villain who poisoned the princess so you can rescue her. Use advanced technologies to help you on your quest, including a helpful little robot named Tim and a unique device which can read the thoughts of any character!
Kingdom of Aurelia: Mystery of the Poisoned Dagger full version features include:
A first-person puzzle adventure
More than 50 manually drawn locations
Accompanied by a tiny robot assistant
Read other character's thoughts
Game Screenshots
(click on Kingdom of Aurelia: Mystery of the Poisoned Dagger game screenshots to zoom)
Kingdom of Aurelia: Mystery of the Poisoned Dagger Game Customer Reviews
Wow. If only every SE game were this good. I used a coupon, and I swear it was the best use of a coupon ever! If you've been holding on to yours waiting for something half way decent, this is the one. Even had I not had a coupon, I would've bought this. I don't want to blather on about every detail of the game, but I will say the graphics and story line are terrific! Do yourselves a favor and at least give this a go with the trial.

- by ackpfft
The game mechanics are the best I've ever seen, everything is logically laid out, the artwork is beautiful (although the CG characters aren't very attractive) and even the voice acting is well done. This is easily as good as most of the CEs from the big name developers, and better in many cases. I'm struck by the attention to detail that went into this, it's really beautifully crafted and a pleasure to play.

- by snapnhiss
I really enjoyed by Kingdom of Aurelia: Mystery of the Poisoned Dagger.

What I liked most about this game was it was so imaginative. Each scene had lots of hidden things to search for. Colorful graphics with impressive scenery and interesting characters. Reminded me of the Mortimer Beckett game characters. Helpful jump map. Some of the best puzzles I have played in a while plus fun Hidden Object scenes that played like a puzzle. Lots of fun. I hope you try this game.

- by Kirland
Loved the game. There were NO collectibles and NO morphing objects; just a decent fantasy story. The MAP button is in the upper left corner and is not always accurate as to where to go but transports well. I suggest you give it a try. Also see my favorite game which resides on my desktop. I play it daily when I just have a short time to play.

- by scamp69
Related Games
If you like Kingdom of Aurelia: Mystery of the Poisoned Dagger game, you may also like...