King's Smith 2
Save the kingdom from a traitor! in addicting King's Smith 2 Game
System Requirements
OS: Windows XP/Vista
CPU: 1.8 GHz
RAM: 1024 MB
DirectX: 8.0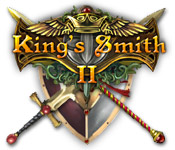 King's Smith 2 Game Description
Anya worked incredibly hard to become the King's Smith, until a sudden betrayal changed everything! Waking up with memory loss, Anya must unravel the mystery behind her kidnapping, and figure out exactly what is going on. Protect the king as you work your way back up to the royal court in King's Smith 2! Use your Time Management skills to succeed and help Anya discover the traitor in King's Smith 2.
King's Smith 2 full version features include:
Immersive atmosphere
Wonderful magic spells
Become the King's Smith!
King's Smith 2 Game Customer Reviews
My favorite TM. Much better than the first one and majority of all TMs. There is so much the game offers. Many upgrades in shop, bonus levels, optional levels, magic cards, gambling, managing employees and even beating monkeys.. Level with monkey king was gorgeous. I particularly love new magic cards. When you get few of those you can start to combine them a prepare yourself for each level in a different way. It runs smoothly on my 5years old computer with no problem. Graphics is nice, clear and more mature then in the first one. Sounds are viable but music is great. I recommend to try this one even for those who do not usually play TMs.

- by manky3
This GAME a simply AMAZING!!!!! The trial hour passed like nothing. I have already bought the game and after 3 hours I must say that this is the best TM game i have ever played! As you gain more and more magic card you can make diverse strategies for each level depending on the cards you have chose to use. Very unique TM game with great story and addictive gameplay. Musics is simply fabulous. If you dont like the graphics go to options and turn on Better graphics option on. I recommend everyone to try this one even if you dont like TM games. There is a relaxed mode so you are not forced by any timelimit. Great game. Definitely 5 stars for me!

- by flekoun
King's Smith 2 is a fun time mangagement game with a medieval theme. King's Smith 2 has addictive gameplay with a RPG twist and a good sense of humor. A full review of King's Smith 2 game coming soon. Download King's Smith 2 game today and become the King's Smith!

- by Zoomer
Related Games
If you like King's Smith 2 game, you may also like...