Tulula: Legend of a Volcano
Save a small tribe from an evil spell. in addicting Tulula: Legend of a Volcano Game
System Requirements
OS: Windows XP/Vista/8
CPU: 1.0 GHz
RAM: 256 MB
DirectX: 9.0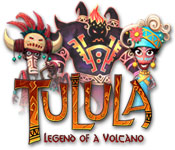 Tulula: Legend of a Volcano Game Description
Once upon a time on an island far away, a gentle tribe lived in peace and harmony. But one day an evil spirit broke free and wreaked havoc on their happy life! Only one member escaped the evil spell - you, the chosen one. Now it's up to you to save your tribe and go on an incredible journey in Tulula: Legend Of A Volcano. Dive into this Hidden Object Puzzle Adventure game and become a hero!
Tulula: Legend of a Volcano full version features include:
Find the totem stones scattered all over a magical island.
Visit over 30 fascinating areas including underground caves and dense jungles.
Solve intriguing puzzles, meet colorful characters, and play marvelous mini-games.
Enjoy this mesmerizing adventure with the entire family.
Tulula: Legend of a Volcano Game Customer Reviews
I am pleasantly surprised. This game is wonderful, delightful, interesting and not without some challenges. It is a nice change from all the very dark themed games that have come out. The characters are whimsical, the graphics are very good and all in all it is just a great game to play. I think people of all ages will really enjoy this. It gets 5 stars from me.

- by mavethrave
A fun game full of humor, interesting story, pretty graphics, not boring because it is not just hog, but you must find fragmented pieces also. Most of the puzzles you are able to skip. The main gripe is the last one is a memory one and I am not good at those kind of puzzles. I loved the sound effects in background it did not get boring. My only complaint is the volcano scene everything is so beautifully done and well thought out and then the volcano graphics well....lets just say not as good as the rest in my opinion. I finished the game and had a blast playing it. I like that the hints actually showed you what to do if stuck. I won't take off a star because of volcano graphics or memory game at end without a skip because I want to encourage the game co. to make a sequel but please no more memory games without a skip. I loved the game but almost missed it because the Title is boring. I tried it because of all the reviews I read recommended it.

- by sherryah
I rather enjoyed this game. The music was not abrasive to me. It was rather soothing which contributed to the game being relaxing. The graphics were pleasant and HO quite easy to find. I would consider this to be a Kid friendly game enjoyed with parents overseeing or not. It is enjoyable. The mini-games were enjoyable and rather easy to complete, with a bit of decision making involved throughout the game. A good replay and good value.

- by Cbrez
Related Games
If you like Tulula: Legend of a Volcano game, you may also like...