Magic Life
Become a powerful wizard! in addicting Magic Life Game
System Requirements
OS: Windows XP/Vista/8
CPU: 1.0 GHz
RAM: 512 MB
DirectX: 8.0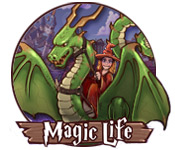 Magic Life Game Description
Become a powerful wizard and take part in an ancient tournament! Live a Magic Life in this fun and exciting game! Develop and design your character and set off on an adventure. Challenge other wizards and defeat them to take your rightful place as a legend! Learn new spells and find awesome upgrades to make your opponents tremble before your might.
Magic Life full version features include:
Incredible action
Fantastic gameplay
Become a powerful wizard!
Magic Life Game Customer Reviews
DEFINITELY recommend this game. Like Lifequest, this game is all about living your life your way only this time with a touch of Harry Potter to go with it. Choose where/what to eat, what to study, what magic instruments/clothing to buy and when/how to do magic battle. Learn spells and buy magical beings to aid you on your quests. This game is totally awesome!! Have played it many, many times.

- by Georgie6
This is the first game that I have played three times in a row after finishing it! The gameplay is so addictive, that when it's over, you have to re-play it. This is a must for every Harry Potter fan and a fun way to spend the day for everyone else. The way you make magic with the wand is hilariously genious :) and not just click a spell from the spell list. I hope there is part 2!

- by adventure777
Just Wow! Amazing gameplay (I played Life Quest and must say Magic Life is much better). Cute and funny graphics. The game about magicians life, looks like they are living in Hogwarts. You can by a lot different items, you can win magic duels, eat in restaurant and many other life-like things. Sounds and music are nice, with "cartoon spooky" mood.

- by Anonymous
I bought this game in January this year and have played it a couple of times a day ever since. I was a great fan of Life Quest but this is even better, with endless opportunuties to improve your performance. If you love the challenge of beating your previous scores, you'll love this. I even contacted the designers to compliment them - something I've never done before. They told me there is another one in the pipeline. Can't wait!

- by nutmegzulu
Cool game! Game plays like Life Quest, but in wizard world. I liked magic duels and costomizing my character and home. Enjoy it!

- by andry_k
Related Games
If you like Magic Life game, you may also like...