Hobby Farm
Manage your very own farm! in addicting Hobby Farm Game
System Requirements
OS: Windows XP/Vista/8
CPU: 1.0 GHz
RAM: 512 MB
DirectX: 9.0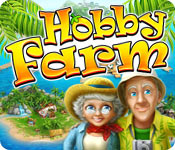 Hobby Farm Game Description
Jill's dream has finally come true! She has her very own farm on her very own island. Harvest exotic fruits, manage free-roaming animals, and operate handmade machines in Hobby Farm! Work your farm under the gorgeous sun and help Jill with your Time Management talents. Purchase new equipment for your farm and keep the delicious crops coming.
Hobby Farm full version features include:
Fill up your leisure time with fun in this charming Time Management venture.
Help Jack and Jill make their newly-acquired island farm thrive in 50 delightful levels.
arvest exotic fruits, care for free-roaming animals like goats, donkeys and chickens.
Hobby Farm Game Customer Reviews
What a super cute farming game! Don't get me wrong, it's the usual plant, water, harvest, milk, gather eggs, make smooties, jams etc...but the graphics, characters and music all flow so well together. This game has that 'umph' that makes you want to keep playing. Best part? It's in the All Access line up so we get to keep playing for free. Doesn't get any better!

- by kcerqua
I am in agreement that Hobby Farm is very similar to other farming time management games out there, My Farm Life and Ranch Rush 2; however I still enjoyed this game because it had some interesting additions to it apart from the other 2 games mentioned. It is a little bit slower paced which makes it a little less stressful to play even though there is a timed mode. The animals are cute. I like how you can buy a little baby chicken and it grows into an adult. I also like that the animals are free roaming and there are upgrades and additions to control them if you want.

The art is very detailed which does make it harder to see what you are doing, but still the art is nice. The story was okay, but seemed long in the beginning. I much preferred the storyline on My Farm Life. Overall, it is still an enjoyable game especially if you want a more relaxed time management game that builds upon features offered by My Farm Life.

- by Vix
Similar to "Ranch Rush" and "My Farm Life" featuring an elderly couple. After level five you can unlock the Relaxed Mode. Unlike similar games, you can retrieve multiple bags of seeds at one time. And it has a night time cycle. Fifty levels with two modes of play. Very Nice!

- by MarkAlan
great game its like playing my farm life you do your farming in the day and night you have to keep to flash light moving around to catch people who are trying to take your crops if you love time management you will love this game it gives you no time to rest the first part its slow as you move thru the levels it gets harded great game.

- by doppyeyed
Related Games
If you like Hobby Farm game, you may also like...