Mahjong Escape: Ancient Japan
Escape to the land of the rising sun for some Mahjong in Ancient Japan! in addicting Mahjong Escape: Ancient Japan Game
System Requirements
OS: Windows 2000/XP/VISTA
Memory: 128 MB
DirectX: 7.0 or later
CPU: P350
Graphics: 16-bit Graphics Support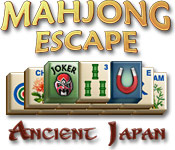 Mahjong Escape: Ancient Japan Game Description
Escape to the land of the rising sun! Relax & play the second game in the hit series Mahjong Escape! Your tile-matching adventure begins over 10,000 years ago in Ancient Japan. Match the Magic Gold tiles and travel through 12 Japanese eras, unlocking wisdom to collect the lost Emperors' treasures. Play over 200 all-new and totally unique levels, with 20 gorgeous hand-painted backgrounds. Escape to Ancient Japan today!
Mahjong Escape: Ancient Japan full version features include:
Unlock 10,000 Years Of Wisdom!
More Than 200 Unique Levels!
5 Special Power-Up Tiles!
Over 20 Hand-Painted Backgrounds To Unlock!
Mahjong Escape: Ancient Japan Game Customer Reviews
I lived in Tokyo for a few years when I was younger and this game is amazing to play and look at. If you want to transport yourself to a different place - this is the game for you! I COULDN'T STOP PLAYING!!!

- by Jimmy
I'm totally hooked. My friend showed me the game and now I can't stop matching the tiles to unlock the wisdom and cool japanese relics. This one is beautiful to look at and the tiles are the best i've seen. Tons of layouts that are fun & challenging. The power-ups add a whole new element!

- by Diane
This Mahjong Escape: Ancient Japan takes the game along a string of games through the japaneze timeline. The games are surprisingly different through the use of themestones like a key and lock, magnetstones and golden stones. This makes you eager to see the next level and the next. Layout and screens are beautiful and the stones are visually very well separated. you allways know how high the pile of stones is. Challening complete and well designed game. excellent game, renewing and worthwhile

- by Anonymous
Related Games
If you like Mahjong Escape: Ancient Japan game, you may also like...