Mahjongg Dimensions Deluxe
Transport to another Mahjongg Dimension! in addicting Mahjongg Dimensions Deluxe Game
System Requirements
OS: Windows XP/Vista/7
CPU: 1.6 GHz
RAM: 1024 MB
DirectX: 9.0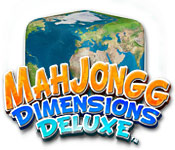 Mahjongg Dimensions Deluxe Game Description
Journey through a symphony of dimensions with Mahjongg Dimensions Deluxe! Reinventing the classic game of Mahjongg, Mahjongg Dimensions adds a 3D twist. Now you can enjoy this brand new game, featuring gorgeous graphics, a sweeping orchestral soundtrack, and hours upon hours of gripping tile-matching gameplay! With tons of levels, multiple game modes and trophies, Mahjongg Dimensions Deluxe is one game you do not want to miss.
Mahjongg Dimensions Deluxe full version features include:
Gripping gameplay
Fast-paced action
Enjoy another Mahjongg Dimension!
Mahjongg Dimensions Deluxe Game Customer Reviews
...I have to say it ROCKS!!! It is beautiful to look at and I really liked the sound too. Theres just something really addicting about this game...I think the unique gameplay is the biggest reason I can't stop playing, but there are plenty!

One of my other favorite things about this game is the UNTIMED MODE!! I love being able to play the game without having to worry about running out of time, though if I feel like challenging myself I can always go back to the timed modes. There are a ton of really cool levels and even though I bought the game a week ago I am still not done with them all!

I give this one a huge thumbs up...if you are a fan of Mahjongg in any way, you gotta play this game...

- by skatelife203
this is the coolest mahjongg game EVER...i was so disappointed when my hr was up. how did it go by so fast???? very challenging/colorful. didn't think mahjongg could be made better. well, this game did it. with flying colors. try it. you LOVE it, too...definately worth buying!!

- by emi1
I've been playing this game for about a week now and am absolutely loving it. I have played a lot of Mahjong games over the last couple years, but so far, this is my favorite. Playing in this 3D environment makes the game so much more interesting, and the bonus tiles keep the game fresh. The Art and Sound create a beautiful atmosphere.

I did feel like the normal levels were not challenging enough for me, but they do have a diabolical set of harder levels that are keeping me thoroughly entertained. One thing though . . . Mahjongg? Ive played Mah Jong Quest, Mahjong Towers and now Mahjongg dimensions. Cant you developers figure this out? Now I have no idea how its supposed to be spelled.

- by LizFain
Related Games
If you like Mahjongg Dimensions Deluxe game, you may also like...