Mahjong Towers Eternity
With over 32,000 layouts, and growing, this is Mahjong at its best! in addicting Mahjong Towers Eternity Game
System Requirements
OS: Windows 98/ME/2000/XP/Vista
Memory: 128 MB
CPU: P 400, 400Mhz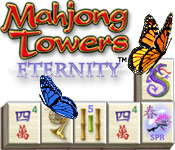 Mahjong Towers Eternity Game Description
Call in sick and unplug the phone: The 3rd installment in this award-winning Mahjong Solitaire series is here! Choose from 3 play modes, make your own tile sets, create boards that can be shared with others, and chat with players using in-game messaging. New items are always being added, and each time Eternity is updated, it's as though you've purchased a whole new game (without actually spending a dime!) So take the next step - from here to Eternity!
Mahjong Towers Eternity full version features include:
Over 32,000 Shared Layouts
Create Your Own Custom Boards
Create Tilesets And Backgrounds
Chat Using In-Game Messaging
Mahjong Towers Eternity Game Customer Reviews
This version of the game allows you to choose from thousands of layouts made by users like yourself in useful categories such as largest, easiest, hardest, and most popular. I have never found a Mahjong game I liked as well. I am now in a different country and would be willing to fly home weeks early just to be able to play this game on full screen on my home computer. I love it. It also has many different tile sets to choose from such as alphabet, numbers, traditional, colored and more. Once you try Mahjong Towers Eternity, you will be a Mahjong fan for life.

- by Suzanne Tohme
Majong is a great way to teach a child eye-hand coordination, and a really good way to strengthen your mind and the capability of the mind and your skills, to give your brain the how to solve greater than the level of potential you carry. I taught my son how to convert from brain to hand to paper. He struggled and then he learned how to retrain himself, so thank you

- by california 93268
If you like Mahjong - you will love this one. You will never become tired of playing as there are always new layouts to download for all levels. This is a must have.

- by ghorsley
Related Games
If you like Mahjong Towers Eternity game, you may also like...