Mystery Case Files: Ravenhearst
You be the detective and solve the mystery of Ravenhearst Manor! in addicting Mystery Case Files: Ravenhearst Game
System Requirements
OS: Windows 98/ME/2000/XP/Vista
Memory: 128 MB
CPU: P3 700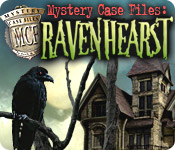 Mystery Case Files: Ravenhearst Game Description
Rumors surrounding the history of stately Ravenhearst Manor have circulated for decades. The recently acquired diary of Emma Ravenhearst may hold the key to unraveling the history of this unsettling place, yet the pages are missing. Players assume the role of Master Detective to unlock secrets held within Ravenhearst, scouring 32 rooms in the manor for cleverly hidden clues. Locating and assembling diary pages helps tell the history of the house and will ultimately unlock the mystery within!
Mystery Case Files: Ravenhearst full version features include:
You Be The Detective!
32 Brand New Rooms To Explore!
15 Special Rooms To Unlock!
Thousands Of Hidden Objects!
Mystery Case Files: Ravenhearst Game Customer Reviews
Ravenhearst is a fantastic game. I Love it so much. It should be played by every one especially who likes to slove mysteries. I am very thrilled playing it.I think its a good game to develop our speed in thinking and also a good game for every one.So every one play it,you will really enjoy playing.just try once.

- by Boyapati Bala Sindhusha
The game's premise is very simple...it is Ispy for adults. The puzzle doors are fantastic! They make you feel like you accomplished a great feat since there is little instructions and the hints are pretty criptic. Anyway a Fabulous Game! Highly Recommended!!

- by TJones13
I love all the MCF Games, but this one is by far the best one yet. It was interesting and exciting. I loved solving the puzzles to get into the different rooms and finding the items was challenging and fun. All in all, a great game! I would recommend to anyone.

- by phatchick182004
Related Games
If you like Mystery Case Files: Ravenhearst game, you may also like...