Mystery in London
Explore locations throughout London as you track an elusive killer! in addicting Mystery in London Game
System Requirements
OS: Windows 2000, Windows XP, Windows Vista
Memory: 512 MB
DirectX: 9.0 or later
CPU: P800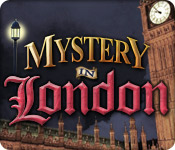 Mystery in London Game Description
Your vacation through many of London's historic locations turns into an investigation into one of the most notorious mysteries ever! Explore the city through 360-degree photographs of places such as Buckingham Palace, Westminster Abbey...even the tailor shop where James Bond buys his shirts! Gather clues and challenge the locals in an attempt to succeed where so many others before you have failed - uncovering the identity of Jack the Ripper!
Mystery in London full version features include:
Explore Historic Locations Throughout London!
Track An Elusive Killer!
Challenge Yourself With A Multitude Of Mini-Games!
Lose Yourself In The World Of Crime Solving!
Mystery in London Game Customer Reviews
Mystery in London is in many ways, a cut above other hidden object games. The storyline itself (the search for the identity of Jack the Ripper) is fairly interesting, but the way the game designers make you search for objects is what is so neat. Each location features a 360 degree view of the location; you use arrows on all four sides of your screen to look up, down, and around. In addition, some levels require you to find objects that are moving or that are shown to you only in silhouette (which was VERY HARD sometimes). My favorite thing about this game, however, is the fact that it is very meaty; you get a LOT of object finding and a ton of locations to look through. Each time you complete a location, you get a neat little fact about that place. I really did want to hop on a plane to London while playing and see these real-world locations for myself! The game took me quite a while to finish, and I felt like I really did get a ton of game for my money. I would absolutely recommend this game to anyone who likes a fun challenge.

- by Deborah Akers
An excellent game. I have Paris 360 and liked that. Rome 360 I didn't care for. London beats them both. The story line isn't as silly as most, and is not intrusive. The ambiance is perfect. The mini-games are an excellent addition. There is a better use of and need for the zoom feature. The items still tend to be a bit too 'clumped' but even that has improved. Overall, a very good game.

- by daylily
Related Games
If you like Mystery in London game, you may also like...