Mystic Emporium
It's time for some real magic! in addicting Mystic Emporium Game
System Requirements
Windows XP, Vista
1 GHz processor or faster
512 MB RAM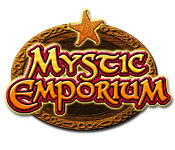 Mystic Emporium Game Description
Take over a musty old magic shop and turn it into the best business in town in this fun-filled time management game. Brew potions, sell artifacts and tend to a variety of magical customers as you build your very own magic shop. As the shop improves, more and more customers come shopping and keep you busier than ever! Over time, the shop earns new upgrades, including new potions, magical artifacts and even a pet phoenix!
Mystic Emporium full version features include:
Buy upgrades to improve your shop
Earn trophies and magic charms as rewards
Over 30 unique magical items for use and sale
Relaxing collapse mini-game
Mystic Emporium Game Customer Reviews
A pretty cool TM game. Fun and active. The potions are a little hard to see. It takes a little bit of your time to look closer to make sure you are clicking on the right tab (though it has the bigger view once it is clicked on but every second counts) I think I have the system down to were it hits expert but I am only playing demos so I do not get too far ;) Graphics are good, tutorial good, sounds are ok, and turned off music.

- by littleone2008
I really enjoyed this one. Graphics were great. Concept was fun. Had to work to get challenger on each level. Have replayed the game several times. If you like time management games, this is a good one.

- by Meltie
This is one of my top 3 favorite time management games. The graphics are wonderful, the characters unique and entertaining. The background music is oddly addictive. This is a game you can play repeatedly but still enjoy every time!

- by kylakitty
Related Games
If you like Mystic Emporium game, you may also like...