Rachel's Retreat
Rachel's Retreat is the perfect dream getaway. in addicting Rachel's Retreat Game
System Requirements
OS: Windows XP/Vista
CPU: 1.0 GHz
RAM: 1536 MB
DirectX: 9.0
Hard Drive: 169 MB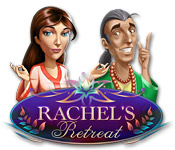 Rachel's Retreat Game Description
Rachel has had one failed spa experience after another...so when she spots the opportunity to start a dream retreat of her own, nothing can stop her! Help Rachel's Retreat to flourish and grow by attending to your clients' every need. With an unimaginable array of beauty, energy and relaxation stations, it's up to you to creatively accommodate clients, and perhaps even change their minds. A host of employees and a mysterious guru named Sven Gali will be at your side to help, but will you know who to trust? Set in a tropical paradise, this innovative mix of time management and building game will pamper you in a hypnotically soothing atmosphere. Luxuriate in the beautiful visuals and warm music while you help your clients reach Nirvana!
Rachel's Retreat full version features include:
50 levels
five different spa locations
six different types of client
18 different beauty, energy and relaxation stations
Rachel's Retreat Game Customer Reviews
This is a high concentration game as you progress through the levels. I enjoyed it very much and would recommend it to those who enjoy time management games.

- by gailinfl
This is a very good time management game! The graphics are stunning, some of the best that I've seen. I loved the music as well, very relaxing. The gameplay starts out simply, and gradually becomes more and more challenging. As you move your clients around to various stations, you can also improve your spa as well by adding more seating in the waiting room, more spaces for clients per station, or you can hire assistants to help you out. There is also a crystal popping game that goes on during the levels to help you earn extra money. This game has a heavy graphics load, and it ran slowly at times. It took quite a while to load the game from the start menu. Overall, I give this game 5 stars. I think I'll buy this one!

- by ShayeraHol
I loved this game. The graphics are great, the mini game is easy, but still involves a little planning and strategy. The hour long demo flew by leaving me wanting more, might just buy this one.

- by Vidya Ananthanarayanan
Related Games
If you like Rachel's Retreat game, you may also like...