Namariel Legends: Iron Lord
Destroy the source of the Iron Lord's dark power! in addicting Namariel Legends: Iron Lord Game
System Requirements
OS: Windows XP/Windows Vista/Windows 7/Windows 8
CPU: 2.5 GHz
RAM: 2048 MB
DirectX: 9.0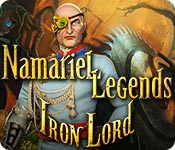 Namariel Legends: Iron Lord Game Description
A terrible Iron Lord has descended upon the prosperous nation of Namerial. With the help of a powerful and menacing legion of mechanical soldiers, he has conquered this once thriving state, and it is up to you to escape from prison, reach the base of his fortress and solve the mystery of his dark power! Be the one to face the dark ruler and destroy the source of the Iron Lord's power. Exciting adventures, true courage and a mysterious world await!
Namariel Legends: Iron Lord full version features include:
Escape to a world of excitement and fantasy!
Explore 50 various game locations
Earn countless achievements!
Play 25 mini-games and puzzles
Meet 15 fascinating characters brought to life by amazing graphics
Namariel Legends: Iron Lord Game Customer Reviews
this is just a enjoyable game to play. Not much for running around to find and uses items. The hint button works good but will not need it much. If you Love HOG this is not for you, just good adventure fun. The music is the best and has voice over. The graphics are good just not the best. The puzzles are really good and thought provoking. This is just a good fun game to relax and enjoy.

- by neilskinut
What a gorgeous game. I love almost everything about it. The story is really interesting and makes the game a hero travel. The minigames are quite unique, i find. The mechanical world is painted with so much love for details that i sometimes just lean back and look at the scenery. I do not even dare to imagine, how long it took the developers to get such a masterpiece done!!! Thanks for this people, it is great and outstanding (in story and graphics) from the normal stuff!!!

- by Meli-2009
We thought this was one of the better ones. A nice break from some of the "darker" ones. Enjoyed the story line and character. Keep more like this coming!!!

- by DudleyDoRight
i absolutely loved this game. i have been playing hog and adventure games for about 10 years now and this is definitely one of the best. not your typical hog...more adventure. great story line...WONDERFUL graphics. did not use sound. a real keeper.

- by sabsgal
In typical Playrix fashion, this game captures your interest from the start and doesn't let you down. Lots of puzzles (with the option to skip) and a fun storyline makes this more of an adventure game than a H.O. but you won't really notice because you'll be having too much fun. Good for kids and adults alike regardless of age.

- by sok30
Related Games
If you like Namariel Legends: Iron Lord game, you may also like...