Pahelika: Secret Legends
Find the ancient book, Pahelika! in addicting Pahelika: Secret Legends Game
System Requirements
OS: Windows XP/Vista
CPU: 600 Mhz
RAM: 128 MB
DirectX: 7.0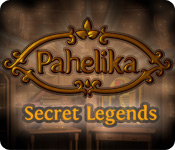 Pahelika: Secret Legends Game Description
Long ago the ancient book of legend, Pahelika, was used to defeat an evil warrior-king. In order to protect the book, it was hidden and guarded in a secret temple. As the descendent of the original wielder of the book, it is up to you to prove your mind, body, and soul worthy of the magical artifact! Advance through unique tests, and travel to a mysterious world in Pahelika- Secret Legends, an exciting Hidden Object Adventure game!
Pahelika: Secret Legends full version features include:
Clever puzzles
Detailed environments
Find The Legendary Pahelika
Fun, Adventure-Style Gameplay
Pahelika: Secret Legends Game Customer Reviews
Great game.. I couldn't stop after playing the one hour demo and bought it right away!! It's a bit different from the normal HOG and has the seeking, finding and puzzling like other's such as the DC3..and twinckles like MCF Ravenhurst the Return. Well.. I really love it!!!

- by Levendig
Excellent game. Imaginative, good puzzles, and graphics are first rate. I have just minor complaints: some screens are way too dark. which leads to my second complaint. Many games when run in windowed mode have a working maximize button. This lets me have full screen but be able to move it to my brighter monitor (I have dual monitors). Since the Pahelika window's maximize button doesn't do anything I have to use the small window in order to have reasonable brightness. Still a bit hard on the eyes. some items are very difficult to make out. Now that I've finished the game, I'd say it is somewhat short - but a sequel is pretty much promised. I'll stick to my 5 stars.

- by cnmoore
I loved this game and can't wait for it be available on one of my game sites where I can afford a new game. Everything was 'fresh', and I was relieved for the free strategy guide - I too use help particularly for 'getting all the lights to come on at the same time' puzzles.

- by jones
Related Games
If you like Pahelika: Secret Legends game, you may also like...