Paradise Quest
Revive a once majestic island! in addicting Paradise Quest Game
System Requirements
OS: Windows XP/Vista/7/8
CPU: 1.0 GHz
RAM: 128 MB
DirectX: 9.0
Hard Drive: 142 MB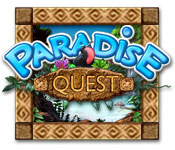 Paradise Quest Game Description
Deep within the Galapagos archipelago, drastic climate changes have adversely affected the majestic island of Isabela. Play as renowned ecologist, Dr. Evan Finch, to re-establish life in this once flourishing retreat. Take a wild match 3 puzzle adventure as you revive lush vegetation, restore a mighty animal kingdom, photograph its renewal, and recover the secrets of a lost island in Paradise Quest.
Paradise Quest full version features include:
Photograph 75 unique Galapagos species
Collect over 350 habitat fragments to piece together six breathtaking scenes
Unlock 15 valuable power-ups and resource upgrades
Earn more than 30 environment upgrades
Paradise Quest Game Customer Reviews
This game is GREAT! From the screenshots, I thought it would be a fairly standard, pretty match-3...but the game play is totally different. The board moves when you make matches, sort of like 4 elements except you can control which direction you go with each match. It's funny that the other reviewer said it was easy, because if you're not in untimed mode the later levels get CRAZY hard! It's good though. Really pretty game, super fun mechanic, fun diversions like piecing together jigsaw puzzles and photographing wildlife, etc. I highly recommend.

- by theredace
I Liked this game. It isn't at all difficult, but could be relaxing for a change of scenery. The mini games are also a bit different from other Match 3 games. I would recommend newbees not to pass this up and for the more seasoned gamer, just give it a try. Some will like it and others will find it not challenging enough.

- by dthieman
Related Games
If you like Paradise Quest game, you may also like...